This event is over.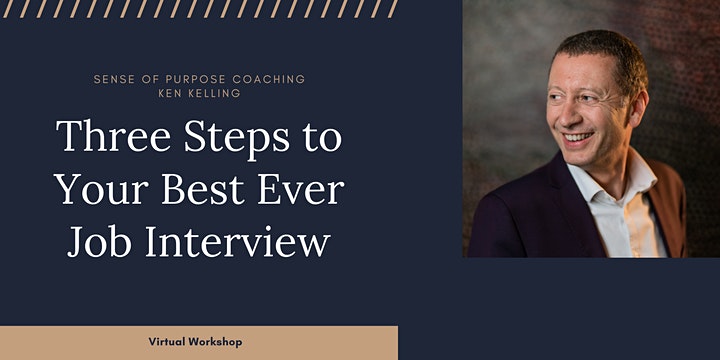 Who
All job seekers
What

Discover how to tap into your personal power for any job interview. You have way more control and influence than you think.
About this Event
Do you hate job interviews? Are you struggling to put yourself across in the way that matches your value and experience? Do interviews bring up your negative self-talk and a whole host of insecurities?
Would you like to feel more in control? To feel less "interrogated"? How would it be if you could walk into an interview knowing that you can handle any questions that come your way?
You don't need to hand over your personal power as soon as you walk into an interview room.
You don't need to become a quivering wreck because someone on the other side of the table looks a bit cross.
If you would like to build your courage in how you show up at job interviews then this is the workshop for you.
At this workshop I will draw on a combination of 25+ years of being both an interviewee and an interviewer – as well as coaching techniques and skills – to suggest what might be a magic formula for any job interview.
Turn your interrogation into a conversation.
Bring your experience and skills to life with colour and confidence.
Give yourself the best chance of building trust with your prospective employer.
You'll discover:
The three most important approaches to preparing for a job interview.
The #1 objective to keep in mind in the interview room.
The biggest opportunity to transform an interrogation into a conversation.
The secret to making yourself more memorable than other candidates.
Where you should be putting time, effort and thought into preparing for interviews. Without stress, anxiety and worry.
How people who show up at interviews fully in their power can leave a lasting impression.
AND… how to do all of this whilst also discovering how you can be at your best, most authentic self.
This workshop will point you towards the things you need to do for yourself to make job interviews an enjoyable challenge not an onerous ego-drag.
Getting better at job interviews is entirely possible. And you don't need too much more than a shift in the way you think and prepare.
This unforgettable workshop could just be the start of your journey to an inspired, confident and authentic job interview.
You will also receive a bonus for attending the workshop – a free 30 minute coaching session.
WHO AM I AND WHY AM I DETERMINED TO SERVE YOU POWERFULLY?
Hi I'm Ken Kelling. I'm an award-winning PR and events veteran, who spent decades helping companies and their leaders to raise their profile. My career involved working with everyone from CEOs and Board Members to politicians and celebrities.
Hundreds of media interviews gave me great insights into how to answer difficult questions whilst not being thrown out of kilter. And how to get across my point in simple, memorable ways.
I've also now been a certified Coach, Mentor and Supervisor for 6 years (ICF ACC Associate Coach). I've learned so much about how to conduct a powerful conversation that leaves people feeling better about themselves and about you.
I've used all of this experience to create a unique formula that anyone can use and adapt to give themselves the best chance of a winning job interview.
WHAT TO EXPECT
The workshop will be interactive and intimate.
Please bring a positive mindset and an open mind!
See you soon!
Ken
Where
Virtual event
When
Date: Wednesday, February 3, 2021
Time: 6:30 pm - 8:30 pm
Timezone: UTC (check your local time here)

How
Registration required? Yes

Cost: Free

Full event details: FREE WORKSHOP: 3 Steps To Your Best Job Interview Ever!

🔖 Event tags:
Free events
🚩 Event category:
Did you attend this event?
How did it go? Tell us.
Leave a comment below
.