Who
All job seekers
What

Our FREE government funded online EMPLOYMENT NOW program can help you land a job in Customer Service/Retail Sales or Office Admin/Clerical.
About this event
EMPLOYMENT NOW
– Could you use some help finding a job OR know somebody who needs help?
– Do you want to improve your skills and attract more job offers?
– Want to be part of a super successful free virtual training program?
————————————————————–
EMPLOYMENT NOW is an online program that can give you the edge you need to land that job!
We understand that things are pretty hectic right now as we all try to adapt and make changes to our daily lives during the COVID-19 pandemic.
Our free government funded online training program is specifically designed to help you get working.
The program is quick, easy and only 10 days of workshop topics.
You can choose to take it all at once or work out a schedule depending on your availability.
Also, sessions are offered continuously, so you can start anytime and do so from the comfort of your home.
We are focused on making sure you have the right skills and to help you find opportunities to get hired. We know that many Canadians are currently being laid off, let go or are facing financial hardship. Our graduates are gaining valuable skills that are giving them the edge in what is currently a challenging job market.
What do our graduates think of the program?
"Thank you so much for everything. It was an amazing experience of being a part of the girls and boys club. It has taught me so much. I have a job today and it's because of you people. I learnt so many new things that were really helpful for me for getting the job." – H
"Thank you so much!! The Employment Now program has benefitted me a lot. It has boosted my confidence and my personality for interviews. I would give the worst and basic answers before to my interviewer but this program trained me very well for the answers and gave me a complete makeover. I am so thankful for the job coaches for their immense support. I've been to two interviews after the program ended and was able to get hired at both of them ie Armani Exchange and Canada Post. I will always let people know about this program so they can get the most of it as well." – S
"You will love this program. Just do it, you won't regret it" – A
"Most other people who got hired at Best Buy…had to have many job interviews to land the job. But through EMPLOYMENT NOW I was able to get hired with just one interview" – A
"I like how everyday is a different topic and the structure of the program is in a loop, where if you miss one, you can make up for what you missed." – L
How do you qualify?
Are interested in working in customer service or office related occupations
Be between the ages of ages of 17 to 29 (or turning 17 soon)
Want to be a part of a successful FREE online training program
Are ready and eager to look for work
Have access to an Internet connection
What does the program offer?
Practical training in a comfortable learning environment with online workshops delivered by our "live" experts on job readiness
Web-based training specific to Customer Service/Retail Sales OR Office Admin/Clerical jobs
Job interview practice via videoconferencing, virtual interviews with employers, as well as resume and cover letter preparation
Online training for in-demand certificates such as Superhost, MS-Office, WHMIS and more. This will make you stand out from other job seekers.
Access to our massive Youth Employment Services (YES) library of online modules to further enhance your skills and employability
Virtual online one-to-one support from specialized Job Coaches, offering ongoing job search and employment retention support for up to 3 months
Learn at your own pace through short yet effective hands-on training
Earn up to $600 in cash rewards
If you refer a person to the program you could qualify for a $100 referral incentive. Ask us how!
Financial supports for transportation, clothing and footwear
The ability to register today and start as early as tomorrow!
What if you don't qualify, can I still benefit in some way?
Yes! Get $100 cash for every successful referral you make to our program. Please see our brochure!*
How does that work?
If the person you refer completes the Employment Now training, you will receive a $100 cash referral incentive. For instance if you refer 3 people, and all 3 complete, then you would receive $100 for each for a total of $300 cash.
Can you be attending school part-time and still participate in the training?
Yes, as long as you're available during the dates/times that the training is offered.
Where is the training offered?
All training is currently offered online. For those who require it, special accommodation can be made for in-person support on a limited basis, and as long as COVID-19 social distancing and health policies are being met.
How do I enroll or make a referral to this program?
It's super easy.
Signup on Eventbrite, or simply call 604-591-9262 ext. 117 OR email: employmentprograms@bgcbc.ca
Don't delay, BOOK NOW!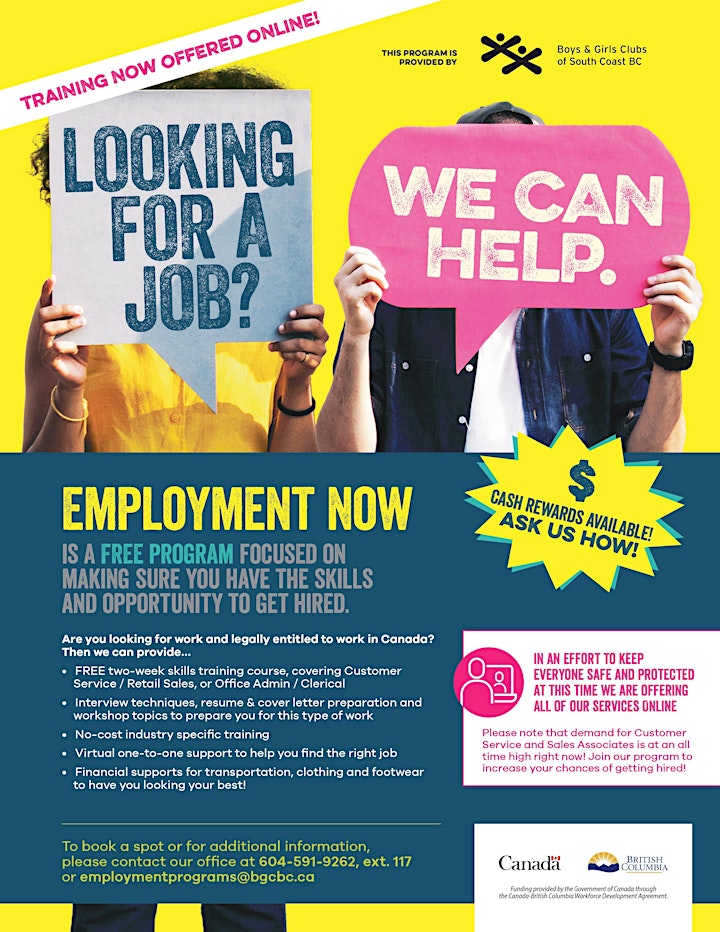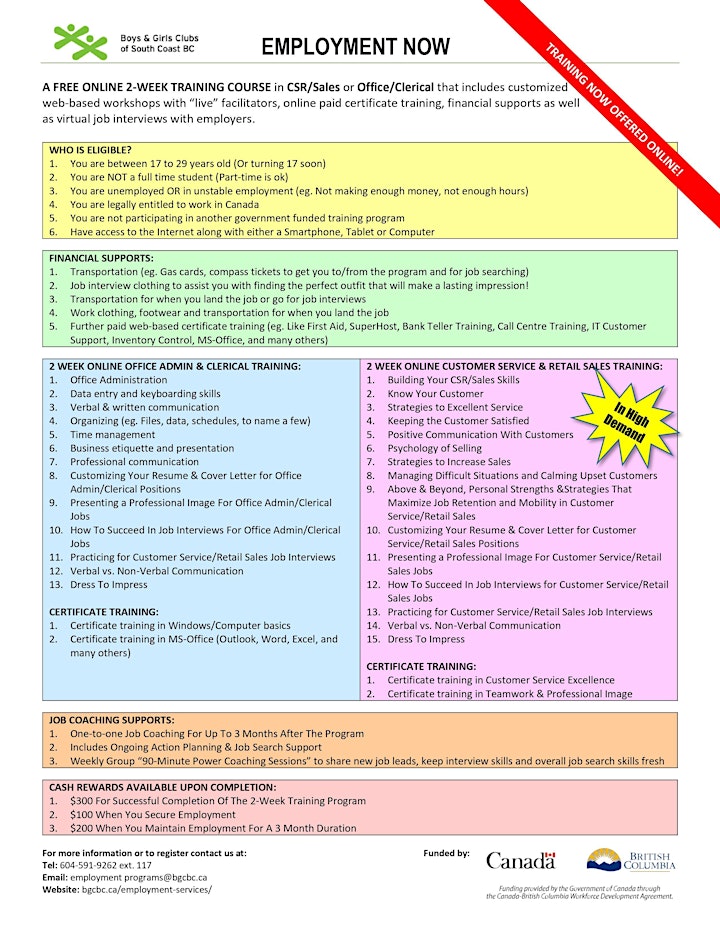 Where
Virtual event
When
Date: Tuesday, July 19, 2022 - Friday, July 29, 2022
Time: 10:00 am - 4:00 pm
Timezone: UTC-7 (check your local time here)

How
Registration required? Yes

Cost: Free

Full event details: EMPLOYMENT NOW – A free 2-week online job training program (Jul'22)

🔖 Event tags:
Free events
🚩 Event category:
Leave a comment below
.