Massively-popular blogger Yaro Starak says that blogging can be your "super virtual resume". I spoke with him to find out how blogging could help you on your job search.
Reminder: Who is Yaro Starak?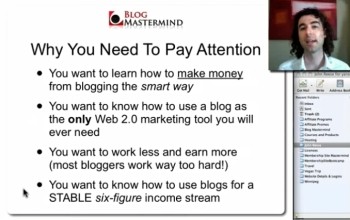 Yaro is one of the world's most successful self-made bloggers and the blogger who has had the biggest impact on me. I discovered him in June 2007 and was lucky enough to get into his (then) limited-entry Blog Mastermind coaching program.
I've told you in the past about how he makes a full-time income working only 2 hours a day using lessons that he shared with me and his other students during that online course, which will be reopening in a few days on Tuesday July 29th 2008.
To get a better introduction to Yaro, click on the image to watch a video on what Yaro calls "conversion blogging", his method for using one blog to generate a full-time income via multiple sources of revenue. The conversion blogging video is a bit long at 32 minutes but it might just change your life.
4 questions with blogging entrepreneur Yaro Starak
| | |
| --- | --- |
| | 1) Why should a job seeker consider blogging? |
| | That depends whether you still want to work for other people. If you are looking for a job, creating a blog as a promotional tool for you is a great strategy – it's like a super virtual resume.However a better strategy is to focus on blogging to first supplement your income then eventually become your main source of income. Blogging is a real business that can lead to enjoying the work from home lifestyle and create some fantastic freedoms in your life. |
| | 2) Can I make a full-time income? |
| | Anyone who is diligent and follows a process each day can get there. It's not hard, but if you are not consistent you will give up before any results come in. This is something you commit to for six months. |
| | 3) How long will it take until I start making money? |
| | That's a tough question. I personally was making about $500 a month after six months work and by the end of the year was up to $2000 a month. My students seem to follow roughly this same pattern – well the ones that keep working do anyway!However there are people who start earning their first dollar within a month, others it can take a year. It depends on how consistently you work towards following a process. |
| | 4) I don't know much about blogs and I'm not very technical. Where do I begin? |
| | I suggest going to my beginner training site, www.BecomeaBlogger.com. That's definitely the best site to begin at. (BaB is no longer around, now you should join the relaunched Blog Mastermind 2.0) |
Considering blogging? Subscribe to JobMob via RSS or email and follow me on Twitter for more tips on working for yourself.