Did you think that all things Web2.0 were staying away from Israel like European tourists?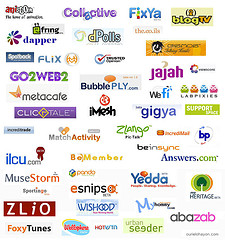 I don't blame you – it's probably because Israeli Internet companies continue to focus their energy on the American market by producing English-only websites for the most part. If we scratch a little deeper however, we can see that there are actually quite a few of these innovators ba'aretz…
A number of well-trafficked Israeli blogs are following the Web2.0 phenomenon, like Orli Yakuel's slick go2web2 in English or the.co.ils in Hebrew, but they don't restrict themselves to Israeli companies or websites.
Other bloggers occasionally on topic are Eyal Shahar at CO.IL (in Hebrew), Eran Sandler at another blog bites the dust or Nir with the Web2Spot. Over on his blog, Ouriel Ohayon put together the Israeli Web2.0 logo board at left, reminiscent of Eran Lahav's Web2.0 Israel Flickr Group but more complete.
In November 2006, StartupIsrael.com launched its Israeli startup news portal and a competitor later appeared online in Launchpad Israel which bills itself as an 'israeli technology gateway'. Also that month was the IsraelWebTour, showcasing Israeli companies in a whirlwind trip to Silicon Valley. If you're curious about how the tour went, Yedda's Yaniv Golan blogged gushed about it.
Was this news useful? Subscribe to JobMob via email or RSS for more tips on where to find hitech jobs in Israel.