Impress a targeted employer with a creative job ad, right on their Twitter profile.
Update July 2014: you can no longer do this with Twitter profiles.
Download The Ultimate Twitter Job Search Guide
Did you see my article about transforming your Facebook profile into a resume by hacking the images that appear above it?
Some creative designers have now applied a similar idea to Twitter.
Instead of hacking your personal profile like in the Facebook resume example, this hack is for the Twitter profile of an employer you're targeting.
The cool idea
Best explained in this 1-minute clip by the designers who used this hack to successfully get jobs:
How to check if it can work for you
This is critical-
Before you spend time and effort setting this up, make sure that it's not for nothing.
Make a short list of employers you'd like to target this way.
Then, check the Twitter profile of each employer. Click on the last few tweets to see where they were tweeted from.
If each tweet says 'via web', that means the person regularly uses their Twitter profile to tweet and is likely to see your hack once it's in place.
However, if the recent tweets were tweeted 'via TweetDeck' or anywhere else, the person isn't using their Twitter profile directly, and is not likely to see your hack.
You can do it too
Now that you've found some employers who are likely to see your hack, I'll show you how to do this so that if you were trying – for example – to target me, the end result would look like this: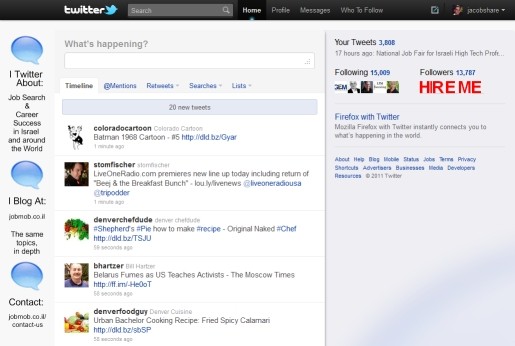 Step 1 – Prepare the avatar images
You can create your own, but you'll probably want to save time and just use the exact set that I created for the screenshot above, right?
Download the avatar images here (this hack is no longer possible, so the images are no longer available)
Step 2 – Create the 5 Twitter profiles
Each profile needs its own email address. Don't have 5 email accounts? Don't want to create 5 email accounts?
If you have a Gmail address, use the plus sign (+) to customize your address uniquely for each profile. For example, if your Gmail address is 'first.last@gmail.com', use first.last+hi@gmail.com for the 'HI' Twitter profile (the profile using the HI avatar image), then use first.last+r@gmail.com for the 'R' Twitter profile, and so on, also covering 'E', 'M' and another 'E'.
Next- for each profile, choose a different avatar image but repeat the same Bio, personal information and design, including the Twitter profile background image.
Once the profile is ready and the Twitter account is created, fill it with hard-hitting information about you:
Put out 5-10 tweets containing glowing quotes about you and or your work – perhaps taken from your LinkedIn profile's recommendations – or listing your relevant successes, preferably with links to proof when possible.
If you're already active on Twitter, mix those tweets with retweets of other people's compliments about you and your work.
For simplicity, reuse the same tweets and retweets on each of the 5 profiles.
Step 3 – Target employers
There are 2 keys to making this part work:
1. Choose a time when the employer is on Twitter
This is important because the hack works by following the employer with each of the 5 accounts. If you just make the hack appear and leave it there, by the time the employer comes back on Twitter, other people may have followed the employer and your hack may not even appear any more.
Look at the account to see if the employer comes online at the same time each day.
2. Get all 5 avatars to appear at the same time, in the right order
Once you know when the employer is likely to see the hack, get to work. Login to your 'HI' account, follow the employer, and logout. Then login to the 'R' account, follow the employer, logout, and so on, for your 'E', 'M' and 'E' accounts.
Once you're done, check the employer's Twitter profile to see if the hack is in place properly and hope for the best.
Bonus – use a welcome message
If you really want to make the best impression and are willing to go the extra mile-
Just before you start Step 3, your last tweet in each of the 5 accounts, appearing at the top of the stream, should be a welcome message to the employer themselves, inviting them to browse the profile that you created 'just for them'.
Once your hack is no longer in place for a given employer and you're ready to target another employer, delete the welcome message and redo Step 3.
Question of the article
Will you try this hack or does it seem like too much work? Tell us in the comments.
Thanks to Charlie Kalech of J-Town Productions for telling me about the Twitter Job Hustle video above.
Subscribe to JobMob via RSS or email and follow me on Twitter for more Twitter job search hacks.