With the announcement of Twitter @Anywhere, your Twitter profile will soon be able to get a lot more exposure.
Download The Ultimate Twitter Job Search Guide
In this video, Twitter founder Evan Williams introduces Twitter @Anywhere as something that makes websites much more Twitter-friendly:
So wait, what is Twitter @Anywhere and why should I care?
Right now you don't need to care, because @Anywhere isn't available yet, but it will be soon…
Pronounced 'At Anywhere', it's a new technology from Twitter that will help your personal branding through Twitter by:
Highlighting your name on a website
On any @Anywhere-enabled website, text that matches a Twitter user's name (but not their username) will cause a small popup or 'hovercard' with some of your Twitter information to appear when moused over.
I'm willing to bet that any text that corresponds to the name of a Twitter user will be automatically linked for hovercard purposes, so the more your name appears on @Anywhere-enabled sites, the more chances to gain followers.
It will be interesting to see how Twitter will manage all the spammers using the same names as other people, or even just regular people who share a name. I really hope the system is smart enough to make the distinction, and not setup just to recognize Verified Accounts, those few lucky people that Twitter agrees are who they say they are.
Making following you easier
The hovercard shows your name, Twitter @username and Location (if known) in addition to a Follow button. From that hovercard, only 1 click is needed for the reader to follow you on Twitter.
Attracting people to you
There's also a 'more…' link in the hovercard that, when clicked, expands the hovercard to show all the additional important information that normally appears in the upper right-hand corner of a Twitter profile such as your Website link, Bio, user statistics (number of tweets/updates, friends, followers, and Twitter Lists you're on). Plus, your most recent tweet is displayed.
Having a well-branded Bio is important but now you have even more incentive to leave your last tweet (before going offline) as a brand builder, because you never know who will see it next.
Spreading your Twitter profile
@Anywhere-enabled websites let you sign in using your Twitter credentials instead of having to register and login, just like Facebook Connect. Although it's not completely clear yet, expect that any comments you leave on an @Anywhere-enabled website will be linked to your Twitter account.
Promoting who you are
Finally, another feature of @Anywhere is that websites can use it to promote their authors & contributors from any page on the site, automatically pulling in information from their Twitter profiles so that if you like someone's article, or if someone likes your article, following on Twitter is only a couple of clicks away.
Free Bonus
Learn how to find use Twitter to find jobs quickly in the short-term and to attract jobs in the long-term.
This free download contains sections on:
How To Make Every Recruiter Jump To Hire You
Which Key Tools Need to Be in Your Twitter Job Search Toolbox?
An Easy Checklist to Follow Every Day
Click the image below to get access to
The Ultimate Twitter Job Search Guide
: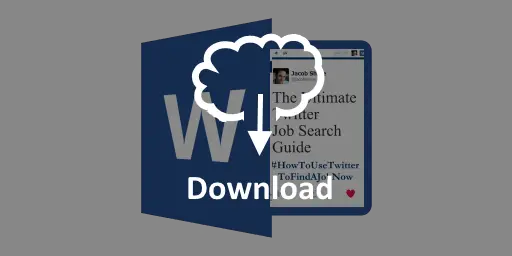 JobMob Insiders can get this free bonus and other exclusive content in the JobMob Insider Bonuses area. Join now, it's free!
If you liked this article, you'll enjoy A Quick Way To Measure Your Personal Brand Using Twitter Lists.
Subscribe to JobMob via RSS or email and follow me on Twitter for more innovations that can help your job search and personal brand.