We did it! The first round voting is over and according to the preliminary results, JobMob has qualified for the finals as Best New Blog 2007.
You did a terrific job coming out to vote, and this shows that JobMob has a bright future. When so many people in the nascent JobMob Community come together in unison so quickly, it's a good sign of things to come. Thank you and please thank whoever you asked to vote also. Every vote had an impact and was appreciated.
Here are the preliminary results for Best Overall Blog: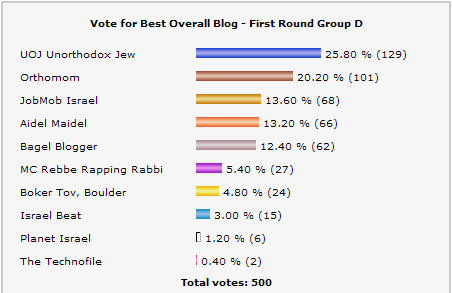 It was a fight to the finish among positions 3, 4 and 5, and I think that had I been able to get the word out earlier we probably could have qualified in this category. As it is, 2nd place Orthomom would have had difficulty qualifying in any of the other groups where the vote counts were even higher. We'll get them next year, right? 🙂
Here are the preliminary results for Best New Blog: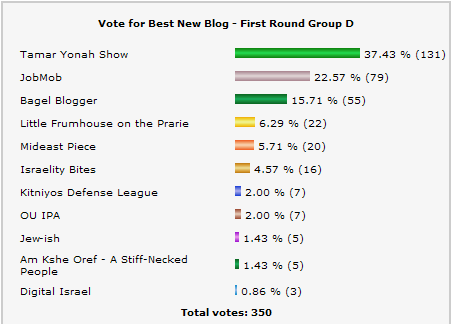 This is where you really shined. In fact, we had enough votes to win in two of the other groups too.
Thanks again for voting and if for some reason you didn't vote or couldn't vote, you'll get another chance next week when the finals round of voting opens on Wednesday May 9th at 10pm Eastern Daylight Savings Time which is Thursday May 10th at 5 am Israel time. The balloting will continue for exactly one week and the JIB Awards organizers have already announced some improvements for the finals round, notably that people on small networks should now be able to vote. This issue actually caused my wife to go vote in an Internet cafe.
Earlier, I mentioned the lack of Hebrew blogs in competition. There were actually 2 Hebrew blogs nominated in the Non-English Jewish Blog category, amounting to almost nothing among the dozens of other blogs. If anything, there shouldn't even be a category for blogs based on language and I really do hope that next year's edition will have Hebrew blogs more proportionally represented. For this to happen, more efforts will be needed to publicize the awards in the Israeli press and blogosphere. Otherwise, they may as well call them the English Jewish Blog Awards instead and be like the (American) Oscars with a foreign film category.
One thing I noticed during the voting is that many people arrived at the voting page on the awards site and misunderstood that voting required clicking on the link to JobMob, which just brought them here. In reality, you needed to click the Submit button beneath the links to continue voting. Did this happen to you? Was there anything else that bothered you with the voting process? Tell us in the comments below, I'm going to pass on these concerns to the awards organizers.