Halfway through the voting in the final round of the 2007 JIB Awards, we got a nasty surprise this morning. Overnight, JobMob lost over 30 votes in the Best New category, consequently dropping from 2nd place to the 4th slot.
Follow the Live Voting Results Here
The JIB Awards organizers have been contacted about the drop and hopefully there will be an explanation. If there was some sort of vote rigging and this is the correction, then I'm glad that they've taken this action. Reaching your objectives by cheating isn't what JobMob is about. However, the statistics programs used to understand how you use JobMob (so that the site improves) do seem to roughly confirm the pre-drop numbers as legitimate, and I've shared this information with the JIBs organizers. Let's hope for the best.
Here are the voting links again:
Here's how we're doing in the Best New Blog category after the drop:
Here's how we're doing in the Best Overall Blog category: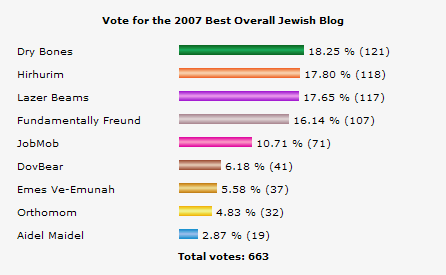 If you already have voted, please get someone else to vote, hopefully even someone who will take interest and join the JobMob Community. Thanks for your support 🙂