What it takes to become the person your boss depends on most.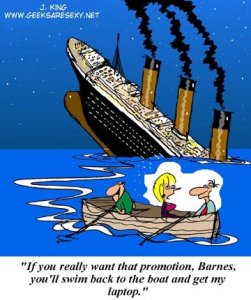 This is a guest post by Alexandra Levit. If you'd also like to guest post here on JobMob, follow these guest post guidelines.
Even though you may think your boss is aware of everything you're contributing, this is most likely not the case, especially if you work in a large organization with thousands of people, or a small organization, where every employee wears a variety of hats.
If you want to be the person your manager considers her right hand, here are five musts:
1) Be willing and agreeable
You know the moment in a team meeting when the boss apologetically asks everyone who can take on an undesirable task and all of your colleagues look down at the table?
Be the one who looks her/him straight in the eye and accepts with enthusiasm. Once you take on the assignment, don't hold it over her/him head. Be gracious and complete it to the best of your ability.
Take a leadership role in the group even if it's outside your comfort zone.
2) Sniff out new responsibilities
If you're excellent at the job you're currently doing, then chances are you're ready for a new challenge.
Look around your group and department and select a process or product that could be improved with your care and expertise. Make sure your boss knows how and where you're taking initiative, and don't neglect your day job in the process.
3) Manage your own time
Managers hate when they have to keep hounding people to get their work done.
Once a task is on your plate, your boss shouldn't have to mention it again. Complete assignments efficiently and on time, even if it means occasionally coming in early, staying online after hours, or neglecting your personal life.
4) Communicate actively
Establish a relationship with your boss that goes beyond the pleasantries and your daily to dos:
Find out what his priorities are and the results he's expected to achieve on his end, and do what you can to further his causes.
Learn the names of his wife and children and ask about them often.
When his name comes up in conversation with others, speak in glowing terms.
Schedule regular performance meetings so that your boss knows exactly where you'd like to take your career and so both of you are on the same page as to how you can get there.
5) Stay in the loop
Your manager might not have time to keep up with all the goings-on in the industry and in your organization, so you should do it for her.
Read the trade publications that have been sitting on her desk for weeks and provide her with a summary of interesting developments. If you hear learn something critical about a competitor or another department, alert your boss immediately. Just be careful to err on the side of information versus gossip.

Question of the article
Which tip have you used successfully to get close to a boss? Tell us in the comments.
About the Author
Want more secrets for getting ahead in a difficult job market and stressful workplace?  Check out Alexandra's new book, Blind Spots: The 10 Business Myths You Can't Afford to Believe on Your New Path to Success.
If you liked this article, you'll also enjoy 7 Ways To Stand Out That You Won't Soon Forget.
Subscribe to JobMob via RSS or email and follow me on Twitter or more out-of-the-box ways to brand yourself.