Here's another contest that's easy to win. Join in before Wednesday night.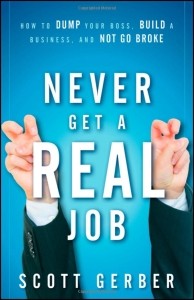 To celebrate the launch of his new book Never Get a "Real" Job, entrepreneur Scott Gerber is sponsoring this contest.
In trying to encourage people to start businesses, Scott created the Death to the Resume Movement, so I thought it would be fun to ask you for your most creative ideas of  how to "kill" your resume.
How to Enter
Leave a comment here below explaining your creative resume-killing idea…
OR
…if you can't think of a creative resume-killing idea, choose your favorite previous comment and explain how you would make that commenter's resume-killing idea even better.
Some suggestions of what to write in your comment are:
True/imagined stories of how you/your dog/baby intentionally/accidentally destroyed a copy of your resume
How a natural disaster could apply to your resume
The most unusual place to shred your resume once and for all, and why, or the most unusual person to do it for you, and why
Share resume destruction stories you found elsewhere online (link to the source if you can)
Have fun with this. Show off your powers of imagination.
How to Win
Simple – Leave a creative and/or funny comment.
The winners will be the 5 people with the most memorable comments as judged by me.
You, or anyone you know, can try to influence the choice of winners by leaving more comments in support.
Prizes
5 free copies of the hardcover edition of Never Get a "Real" Job (which sell for US$22.95) are available to be won, including shipping & handling to wherever you are in the world.
Rules
Must be 18 or older.
You can comment as many times as you like, but you can only win one prize.
Be sure to use a real email address or Twitter account when you comment so that I can contact you if you win.
Contest Deadline & Results
To be considered as entries in the contest, all comments must be submitted by this Wednesday December 8th 2010, midnight PST, which is 10am Thursday morning Israel time (check your local time here).
Results will be announced here on JobMob Thursday December 9th at 2pm EST which is 9pm Israel time.
Good luck!
Subscribe to JobMob via RSS or email and follow me on Twitter for more fun job search contests.