Prepare for the best by first preparing for the worst.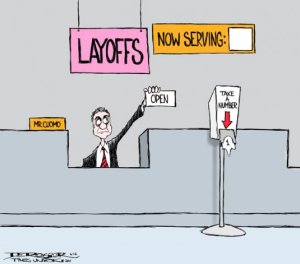 This is a guest post by Krisca Te. If you'd also like to guest post here on JobMob, follow these guest post guidelines.
Staying employed during an economic downturn is a challenging task for anyone.
Business firms around the globe are scrambling to cut down their overhead costs, and manpower salary is usually one of the most obvious targets for their downsizing measures.
Employee salary and benefits are a constant and rather large expense in the budget of companies. Viewed from this perspective, it's easy to see why companies choose to just let go of their people when they want to reduce their operating costs. They'd rather contract out the work or turn to automation instead of paying for regular in-house employees.
The layoff scare
Staff members usually see this coming—there are telling changes in the company's cash flow patterns such as less bonuses, lower petty cash allowances and smaller funds for employee gatherings. With entire industries going under all around the world, working individuals are aware that financial constraints can really push the management to take drastic steps towards budget minimization.
Nobody is 100% safe from the prospect of job termination.
However, you should still keep working well while you're still on staff. After all, the dark cloud can pass overhead and you'd still stay employed with your current company along with the rest of your co-workers.
Here are some things you can do while you wait to hear from management about their financial strategy this year:
1. Remove personal files from your computer
Implementing a layoff is hard for management, so they want to make this as quick and painless as possible. They usually give employees only an hour or less to clear up their personal things, including non-work files on the company PC.
It would be wise for you to copy your personal documents into a flash drive and take photocopies of your printed personal files so you can leave quickly and quietly.
2. Brush up on your interview skills and update your resume
If you're really going to be laid off from work, you should get ready to look for a new position elsewhere.
Don't wait until the last minute before pulling out your dusty work files to put in fresh and relevant information on your resume. You and your co-workers will all be vying for vacancies at other companies, so it's good to have a head start by having your most recent resume polished to perfection.
3. Let your family and friends in on the situation
You might be inclined to keep the impending layoff a secret from your loved ones because you don't want them to worry, but this actually bad strategy on your part. Let them support you through this difficult time in your career. Besides, they might know about job openings at other companies, and this can be a good starting point for your job search.
4. Save your money
Cut down on your personal costs as soon as you suspect that a layoff is near.
You have to have as much ready cash on hand if you will eventually be unemployed and will have to rely on your severance package for your day-to-day expenses. If you haven't built up a considerable savings account yet, try to do so before you are finally let go.
5. Take time to learn new marketable skills
You may have been with your current company for several years now, which means that you have been working on the same things for a while. Your skill set has been unchanged, and this means that you're not very desirable for a new position.
Enroll in a class to acquire new marketable skills to increase your chances of being hired.
6. Keep up your work efficiency
Not knowing whether you can keep your job in the long run is a very troubling feeling, but don't let this affect the quality of work you put out for the company.
As long as you're still employed, you have to give every single task your best shot if only to give your immediate superiors the impression that you are loyal as well as hardworking even under extreme circumstances. Your work ethic will also rub off on your co-workers, so if you're sloppy and depressed, you'll just pull them down with you into the pits.
7. Keep calm
It's very easy to freak out and panic as you wait for official management action on the financial crisis it is currently facing.
You're likely to lose more than a few nights' sleep because you keep mulling over your available options again and again. However, you should not let your panic get the better of you. Do what you can as long as you're still employed, but brace yourself for whatever might happen in the future.
About the Author
Krisca Te, when not out building relationships with other bloggers, can be found reading blogs that tackle personal development. She is also a personal finance freak who is currently working with Australian Credit Cards, a blog based in Sydney, Australia that has written about optimistic delusion and low interest credit cards.
Next, read The 25-Point Layoff Success Checklist You Hope to Never Need.
Subscribe to JobMob via RSS or email and follow me on Twitter for more layoff survival tips.