Kickstart a long job search or start a new search right by joining a job club, one of the most helpful things that many job seekers never think to do.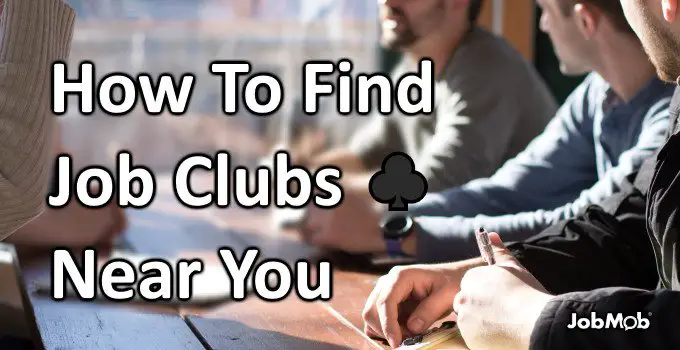 My friend and executive resume writer Donna Svei calls job clubs "the top habit of exceptionally successful job seekers."
In her article about job clubs, my friend and fellow job search expert Susan Joyce mentions how "a 2014 U.S. Department of Labor study found that job club participation increased job search success for members of the study from 22% (those with no club participation) to 74% (those who attended weekly meetings)."
I wish I had joined a job club back on my long job search in 2001-2002. It might have saved me from becoming job search depressed, and that search probably wouldn't have been nearly as long or as frustrating. Grrr.
What is a job club program?
A job club is a group of people who meet regularly with the common goal of finding a better job.
Often, a job club will be organized and lead by a career expert who will coach and teach members how to get better results, through activities such as proofreading your resume, helping you target employers and prepare for job interviews.
Job clubs are also meant to be job search moral support groups, helping job seekers through the ups and downs of their searches, and job clubs may also act as networking groups, where members share leads with each other.
While many job clubs are simply for local community job seekers, sometimes the club will be grouped differently, such as for a specific profession, industry, age group, people with autism, people with a disability… you name it.
If all this doesn't sound good to you, I'd love to hear why in the comments.
So where do you find local job clubs?
I've compiled a long list for you here below.
Free bonus: The One Resume Resource You'll Ever Need is a handy reference to make your resume get you more job interviews. Download it free now
Global Directory: Over 50 Job Clubs From Around the World
Click a flag to jump to the job clubs in that country:
If you know  of any other job clubs that aren't already in the list, please suggest them in the comments below.

🇦🇺 Australia
Where else can you find a job club to join?
Didn't find a job club near you in the list?
There are plenty of other places to look:
Google "job club near me" or "job search clubs near me" or "job club [YOUR LOCATION]" (e.g. "job club nyc")
Check out job club finders such as CareerOneStop's (USA only)
Ask a career coach to form one
Start one yourself, perhaps by posting on a local bulletin board or in local Facebook groups
Search for a virtual / online job club
Free bonus: How To Find Great Freelance Designers Anywhere is a quick read of case studies and takeaways from people who have done it, with resources to help. Download it free now
Question of the article
Have you ever been in a job club? If so, what was it like? If not, why not? Tell us in the comments.
What others are saying
READ NEXT: ☕ 37 Ways to Meet People Who Can Refer You to Jobs
Subscribe to JobMob via email and follow me on Twitter for ideas about the best job search clubs, materials and activities.