Always with an ear to the ground, my friend and owner of JibberJobber Jason Alba has teamed up with expert Jesse Stay to write a guide to Facebook. Facebook can be really useful in networking towards your next job, but how can this new book accelerate your job search?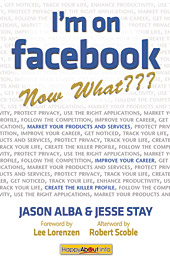 The book is called I'm on Facebook — Now What???
What does the book cover?
Here's the table of contents to give you an idea:
Introduction
Chapter 1: Getting Started
Chapter 2: Getting Involved
Chapter 3: Commonly Asked Questions
Chapter 4: Facebook Applications
Chapter 5: Privacy
Chapter 6: Your Facebook Strategy
Chapter 7: Facebook for Business(es)
Chapter 8: Facebook No-No's
Chapter 9: Additional Resources
Conclusion
Appendix A: Non-storable Data
Although the authors claim that no book could have all the answers for everyone, they did a good job of trying to do just that.
Things I didn't like about I'm on Facebook — Now What???
Strange way to start a review, no?
Since I usually try to avoid Facebook from sucking up my time (sorry Net), I was surprised by how much I liked this book. So much so, that it's quicker to talk about what I didn't like since there wasn't much.
Too many comparisons with LinkedIn
As many people do, the authors were right to compare LinkedIn with Facebook. Having also written I'm on LinkedIn — Now What???, Jason definitely has what to say on the topic and the first chapter was a good place to explain how the 2 websites are different. After that however, there were only one or two places that hearing about LinkedIn was really pertinent. Though LinkedIn wasn't mentioned on every other page, by the end of book the comparison was tired.
Unusable recommendations
Midway through the book is a list of recommended Facebook applications. Some of the recommended Facebook apps were in beta (LinkingUniverse) or only accessible to US-based Facebookers (GrandCentral App) so there was no way to try them out in my case.
Things I liked about I'm on Facebook — Now What???
Practical – every chapter ends with action items for you to try out the lessons learned.
Economical – if you're a regular Facebook user or on your way to becoming one, the authors' advice will save you A LOT of time for example with tips about how to manage your Facebook notifications.
Complete – whether you're considering Facebook for personal use and/or business use, Jason & Jesse have it covered.
Readable – the content flows well, making it easy to read, understand and learn.
Personal – Chapter 6's recommended usage by profile – e.g. Mom or Dad, Business Owner, Student, etc. – is a big time-saver to get you moving in the right direction.
Useful – especially pertinent for job seekers, the book has terrific insight about how to brand yourself with Facebook.
Pragmatic – possibly the longest chapter is about privacy – the biggest concern for anyone using Facebook – and discusses when you want it and when you'll be willing to give it up. Plus, the useful appendix to assuage your worries by telling you exactly which information a Facebook application does and does not have access to.
Bonus tip
Buy the cheaper ebook version so that you can easily test what Jason & Jesse recommend as you read along on screen.
Conclusion
Job seekers are already using Facebook to find jobs. I'm on Facebook — Now What??? turns you into a professional Facebooker and will make your Facebook visits more effective in ending your job search the way you desire.
This article is part of InspiringWear's Facebook group writing project, which is part of the Social Media Mega Project.
Been poked yet? Subscribe to JobMob via RSS or email and follow me on Twitter for more help with Facebooking your job objective.