As you get better at your job, so should your cover letter.
This is a guest post by Rebecca Haden.
When I first started freelancing, a more experienced freelance told me, "There's always plenty of work." I didn't believe him, but it's true. Freelance workers, unlike other business owners, can apply for jobs when things get slow.
Things don't get slow for me very often any more, but I still apply for jobs – often when I'm invited, and sometimes when it's an extremely cool gig that I would love to have but I know I won't be getting an invite.
The fact that I apply for things hasn't changed, but my application cover letters sure have.
---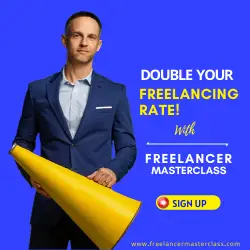 This article is brought to you by the new Freelancer Masterclass, The World's Best Freelancing Course.
Whether you're a beginner or expert, you'll learn how to have a career where you're in charge, where there is no corporate rat race, and where work doesn't feel like work.
Best of all, you can do it all from the comfort of your home, coronavirus quarantine or not.
Now just $97 - 90% off (COVID-19 special!) and if you contact Customer Support after your order and mention "JobMob", they'll refund you another 10%! Offer expires very soon.
---
The new freelancer's cover letter
When I first started I had little experience, obviously. I had written some stuff for the web as part of previous salaried jobs, I had a personal blog, and I had done a guest blog post at a PR8 site, but my portfolio was very small.
So I focused on facts about me – specifically, on the things that gave me an edge over the other writers who were my competition at the time:
I'm a native speaker of English.
I teach writing at a college in the United States, so you know I'm solid on punctuation.
I have a Master's degree in Linguistics, so you know I'm hot stuff when it comes to grammar.
Your list of facts will be different from mine, but if you're creative (and you are, or you wouldn't be here), you can come up with facts about yourself that support your claims about your work ethic, design skills, or whatever you're peddling.
I made myself a writing samples site over at Weebly, one of the free website communities, and linked to it in my cover letters so prospective clients would have a good variety of examples to read.
My cover letters had a formal, professional air to show that I would be professional and reliable as a worker.
The experienced freelance cover letter
Once I had some experience, I changed the facts I emphasized.
I quoted testimonials from my clients, I linked to examples of my work online, and linked also to the client list at my professional website.
I kept my portfolio updated, but I dropped the writing samples page unless someone asked for it.
Of course, I spoke directly to the things the job posting mentioned, but I also focused on the things clients often mentioned as my strengths. If my happy clients liked the way I got their jobs done fast, then it was likely that prospective clients would want that, too.
My letters were still formal and professional, but I gave up the underlying message of "Please sir, let me prove myself to you." The point was not that I thought I'd do a good job, but that I had shown I could do a good job.
The expert freelance cover letter
By now, I have a large and fairly impressive client list. My blog is PR5, I often write for PR8 sites, I've been featured in the Wall Street Journal and the WordPress Showcase, and – just between you and me – I don't write for everyone who asks me.
Now in my application letters, I describe work that I've done that is specifically relevant to the company I'm applying to. I link to examples of my work that have characteristics the prospective client wants and needs, and I line out the specific points I want them to notice. I still link to my client list, and I also link to blog posts at my own website which cover concerns expressed in the job posting.
The tone of the letter is more about exploring whether the prospective client and I will be a good fit. I'll never write letters that say, "Listen, I'm great. Hire me." A cover letter is your chance to strut your stuff in a courteous, professional way, and arrogance is never courteous or professional. If your letters sound timid and deferential, though, your prospective client will have a hard time seeing you as an expert.
The wrap up
Wherever you are in your freelance journey, go with these basic principles in your cover letters:
Don't make claims about your abilities; let the facts speak for themselves.
Link to examples of your work, even if you have to publish it yourself.
Focus on the needs of your prospective client as specifically as you can.
Then make sure that your letter is as highly evolved as possible. As your qualifications increase, reflect the change in your application letters. The payoff will be higher rates and more jobs.
About the Author
Rebecca Haden is a full time web content writer and the owner of Haden Interactive, a content-focused web firm.
This article is part of the Over $5000 in Prizes: The 5th Annual JobMob Guest Blogging Contest, which was made possible thanks in large part to our sponsors:
| | |
| --- | --- |
| | Marcus Tandler's JOBlog is Germany's oldest blog about job search & careers. |
| | Rabbi Issamar Ginzberg is an internationally acclaimed advisor to successful business owners, known for his small business ideas. |
| | WebHostingBuzz is a reliable web hosting company based in MA, USA. |
If you want Rebecca Haden to win, share this article with your friends.
If you liked this article, you'll also enjoy 10 Sure-Fire Ways to Make Your Resume Scream "I'm an Amateur!".
Subscribe to JobMob via RSS or email and follow me on Twitter for more cover letter success tips.