Most job seekers mean well when it comes to listing skills on their resumes. All too often it's recruiters and us other readers who get the most benefit.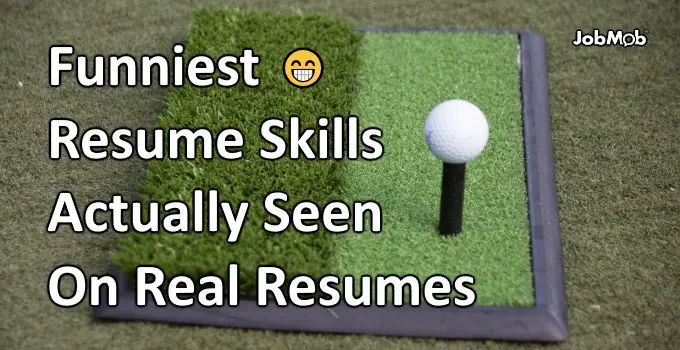 Everyone's seen those hilarious resume blunders coming from a single letter being out of place, typos that lead to "great pubic speaker", "party-time assistant", etc.
This list isn't about those.
This list is for the resume skills that job seekers are proud of enough to put on their resumes, and funny enough to leave you shaking your head or laughing out loud.
You be the judge. Enjoy!
Free bonus: The One Resume Resource You'll Ever Need is a handy reference to make your resume get you more job interviews. Download it free now
Funny resume skills you're glad other people have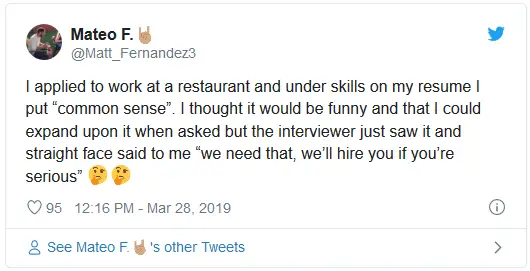 Via Quora:
9/10 correct predictions for the Academy awards in 2010, 11/11 accurate predictions in 2011 and 12/13 correct in 2012
MS Office (only)
Googling
Can solve a Rubik's Cube in under a minute
Can drink a gallon of milk in 10 seconds
Special quality: can impress any girl with in 5 minutes
One applicant listed what their favorite sections of the local paper are. The sections weren't relevant to the job, and the paper's really not very good.
Adept in the fine art of pretzel folding
Cleaning up the dead bodies (from someone who had worked at an assisted living center for senior citizens)
Can recite Pi up to 500 digits
Skipped 111 times in a minute to consolidate the 2nd position in the Limca Book of Records
Always uses just the right amount of salt, no matter the shaker
Cocking pastas
Playing card games
Hangging with my friends and family
Ability to meet deadlines while maintaining composer
Experienced with numerous office machines and can make great lattes
Can charm anyone, even a pigeon
Solving puzzles
Exceptional poker player
Participated in Fusion dance number
Best Smile Award in Grade 8
Ghost in high school horror house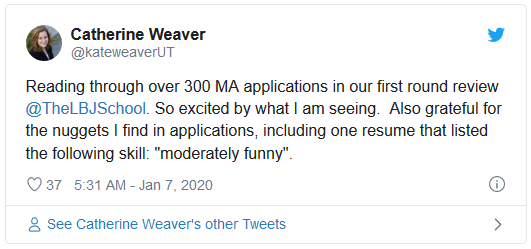 Via Reddit:
I work well with piers (guy was an exhibit builder)
Proficient at Facebook, Twitter, and email
Agility training with my dog
Can cook minute rice in 58 seconds
Able to say the ABCs backwards in under 5 seconds
I'm a big dude so I can handle myself in a fight
Experienced drinker & partier, so I'm comfortable working in environments with drunk people
Can hold five baseballs in one hand ("When the staff was all drunk one day someone called him and told the poor guy that if he could handle six balls in one hand, the job was his")
Surviving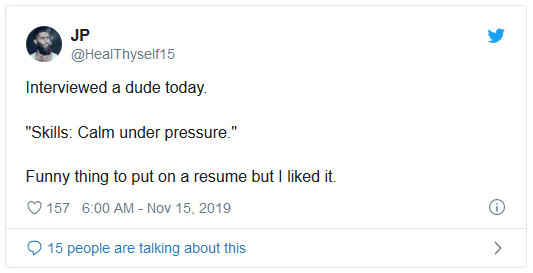 From 150 Funniest Resume Mistakes, Bloopers and Blunders Ever:
Cleaning skills: "bleaching, pot washing, window cleaning, mopping, e.t.c"
Strong Work Ethic, Attention to Detail, Team Player, Self Motivated, Attention to Detail
Can function without additional oxygen at 24,000 feet
I can type without looking at thekeyboard
I am a Notary Republic
I have integrity so I will not steal office supplies and take them home
I have technical skills that will take your breath away
Written communication = 3 years; verbal communication = 5 years
I've got a Ph.D. in human feelings
Being bilingual in 3 languages
From 150 More Funniest Resume Mistakes, Bloopers and Blunders Ever:
Gator hunting
Calculator on sight
Sarcasm
Can make perfect velociraptor call
Riding a bicycle
In a computer skills section: Tiger Woods Golf
Skills: "Yeah I got 'em"
Main skills: creativity, bravery, arrogance, cleverness and honesty
Walking – I am very good at this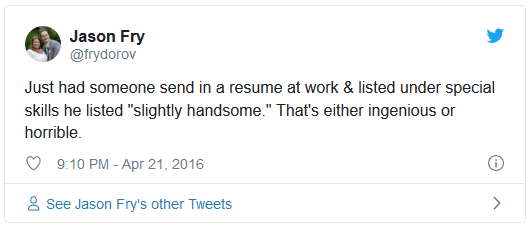 Funny resume skills from other sources:
I rarely get sick
Advanced Yo-Yo
So many spreadsheets
Understood (the movie) Interstellar
Am a perfectionist and rarely if if ever forget details
Quick at typing, about 30 words per minute, 45 with strong coffee
Gossiping
Fluent in English. Also I have been heard muttering Gibberish in my sleep
Extensive experience with foreign accents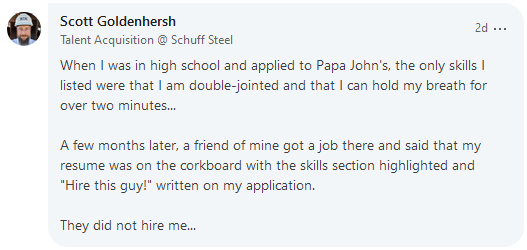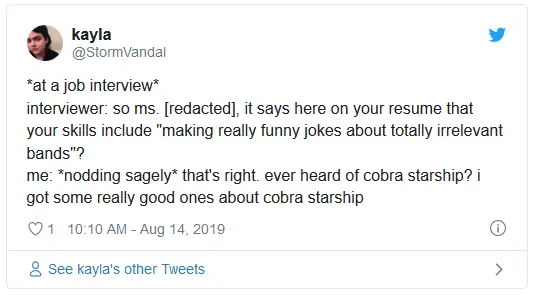 Free bonus: How To Find Great Freelance Designers Anywhere is a quick read of case studies and takeaways from people who have done it, with resources to help. Download it free now
Question of the article
Which of the funny resume skills above made you laugh hardest? What's the funniest thing you've seen on a resume (yours or someone else's)? Tell us in the comments.
What others are saying
Bonus: Phoebe and Joey talk about his funny resume skills
READ NEXT: 21 Funny Resume Stories
Subscribe to JobMob via email and follow me on Twitter for more funny resume wackiness that's hard to believe.