Are you in the middle of your career and worried about your next job search?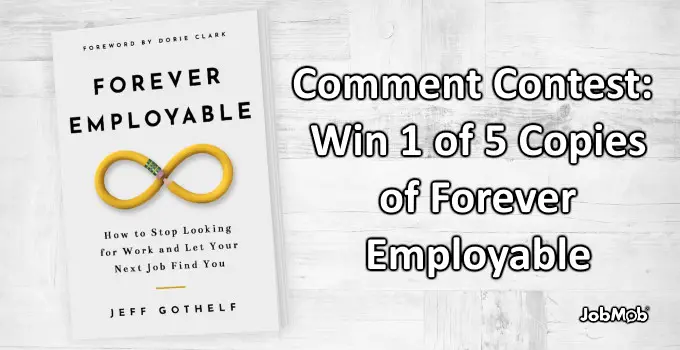 If you're wondering how much better your career can get, this book is for you.
How to Enter
Simple – at the bottom of this article, leave a comment about being Forever Employable.
Some suggestions of what to comment on are:
What does it mean to you to be Forever Employable? Is it different now in 2020?
Who's the first person that pops into your head who is Forever Employable?
Why do you deserve most to win a copy of the book?
If you could give this book to anyone, who would it be and why? (you don't need to mention their name)
All of the above
Don't be shy…
About the book
Using the timeline from his own career and anecdotes, stories and case studies from other successful recognized experts, Jeff Gothelf provides a step-by-step guide to building a foundation based on your current expertise ensuring that no matter what happens in your industry you'll remain Forever Employable.
This handy guide to your career and professional development shows you how to create your own content, use it to build your expertise and credentials and then scale it to build a continuous stream of income, interaction and community.
Forever Employable shows you how so that you're always ready for the next step in your career. Reduce your stress, build your community, monetize your platform — that's being Forever Employable.
Prizes
5 physical copies of the new Forever Employable: How to Stop Looking for Work and Let Your Next Job Find You are available to be won, wherever you are in the world.
How to Win
Simple – Leave impressive comments. This is how to do just that.
The more impressive your comments are, the more chances you have to win. Plus, there are no limits on how many copies you can win, so if you want more than one copy, comment multiple times.
As usual, you or anyone you know can try to influence the choice of winners by leaving more comments in support.
Rules
Must be 18 or older.
Be sure to use a real email address when you comment so that I can contact you if you win.
Contest Deadline
To be considered as entries in the contest, all comments must be submitted by this Tuesday, September 22nd 2020, 1pm Eastern/10am Pacific, which is 8pm Israel time (check your local time here).
Good luck!
---
Join us for the next JOSH video chat with job search experts
Title: 2 Weeks, 7 Interviews, 3 Job Offers: Ben O'Hanlon, Expert Community Builder [JOSH #10]
Time: Tuesday, September 29th, at 8:00 PM Israel Standard Time (click here to check your local time)
Full event details in the JobMob Job Search Calendar
---
Bonus
Forever Employable Stories: Stephen Shedletzky, Head of Brand Experience and Igniter at Simon Sinek
Subscribe to JobMob via RSS or email and follow me on Twitter for more inspiring job search book giveaways.