If age and marital status discrimination is illegal in Israel, why do so many Israeli resumes clearly state birthdays and marital status?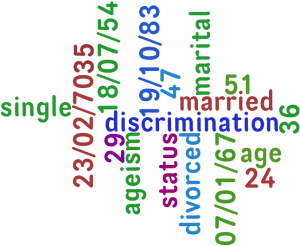 Over on Tachlis – one of the mailing lists an Israeli job seeker should consider – a member said:
Today we went over the basics of what goes onto an Israeli resume:  name, age (NONE O'THEIR BUSINESS), marital status (ditto; har-umpf!), etc.  I sincerely hope that the world of science research sticks with American-type resumes (fume-fume-fume).

The teacher looks to be in his late 20s.  He mentioned that some companies specifically request that those over the age of 35-40 not apply.  Again, I'm hoping that science (where experience & ability are most important) is different.
Putting your age and marital status on your resume isn't required but some people might still want to do so.
Why?
Although it is illegal in Israel to discriminate based on age or marital status, some companies will still do so out of ignorance or because they know how hard the discrimination would be to prove.
Why do it if companies might use age and marital status "against" you?
When bad companies use those criteria to filter your candidacy away, the result is that you're also saved from working for those same bad companies. At the very least, you're not wasting time going for a pointless interview that would have unnecessarily raised your hopes and brought them crashing down after another perceived rejection.
So should you put age/marital status on your resume?
The easy answer is to say 'no' but the reality is slightly more complicated.
A resume's goal is to get you interviews, presumably good ones where you have a real chance at getting the job offer. You should add any truthful information that will help towards that goal.
In other words- if you think that having the age/marital status on your resume will help you, add them.
Final point
Your resume isn't etched in stone. Feel free to test the market by sending both resumes with and without the information (not to the same company). See what happens and stick with the resume that's achieving better results.
Feeling discriminated against? Subscribe to JobMob via RSS or email to get the real-world advice you need.