On May 21st 2008, Tel Aviv University is holding the 28th edition of its annual year-end job fair.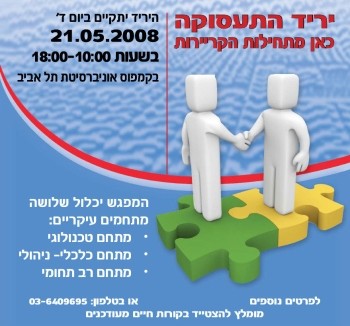 Who
Although aimed at students and graduates, the job fair is open to everyone and covers all industries in the Israeli job market.
What
The oldest job fair of its kind in Israel, dozens of companies will be searching to fill hundreds of jobs.
On campus, companies will be organized into 3 zones by industry:
Business Management Zone – positions in business, finance, accounting, etc.
Tech Zone – jobs in hitech, biotech, engineering, etc.
Multidisciplinary Zone – everything else
Important tips: this layout is slightly misleading. For example, an opening for an accounting job at a software company would be found in the Tech Zone. Keeping that in mind, you may want to visit multiple zones.
Also, don't forget the 35+ Job Fair Success Do's and Don'ts.
Where
Tel Aviv University
Ramat Aviv, North Tel Aviv
Tel: 03 640 9395
Directions and access information
Campus map
If you register online for the fair (Hebrew), you earn a "prize" to be received at the fair's Information booth until their stock runs out. Otherwise, you can register at the event itself.
Entry is free. Every visitor will receive a catalog with information and a list of all the companies presenting at the job fair.
When
Wednesday, May 21st 2008, 10am – 6pm.
The fair organizers recommend arriving no later than 5pm.
Why
Get feedback about your resume
Schedule interviews
Stock up on free pens and candy
Network with other job seekers
Subscribe to JobMob via RSS or email and follow me on Twitter for the most important events in your Israeli job search.