This event is over.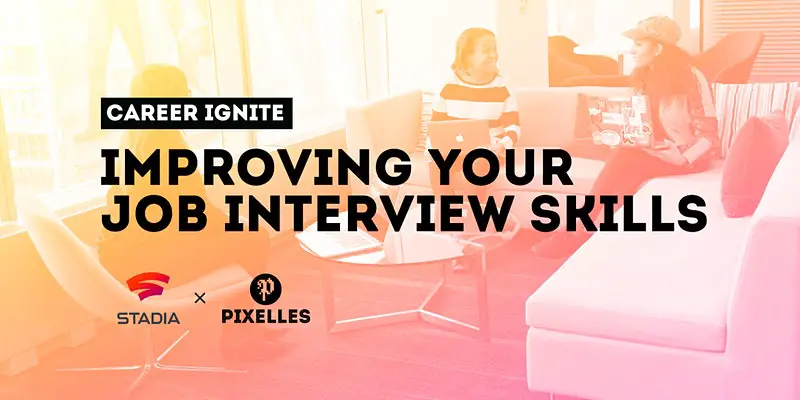 Who
All job seekers
What

Improve your interview skills for that next game dev job at our online lunch & learn event — presented by Stadia and Pixelles
About this Event
We're teaming up with Stadia to bring our Career Ignite series online through lunch & learn events!
This first event on reinforcing your interview skills. The online presentation, crafted by the Stadia team, aims to help you land that next game dev job or level up into a new position — whether you're looking for a change now or curious about how you can do better.
Following the presentation, participants can attend area-specific breakout groups where mentors will share their experience, answer questions about their roles and give advice. Breakout groups are available for: game designers, artists, programmers, project managers / producers.
Spaces are limited. You must register for this event in order to receive links to the presentation and breakout groups.
AGENDA
All times set to Eastern time zone (GMT-4):
12:00 PM – Presentation on general job interview skills
12:20 PM – Q&A period
12:30 PM – Breakout groups with mentors
1:00 PM – End
SPEAKERS & MENTORS
Listed here soon… Stay tuned to our Facebook page or Twitter to find out who our mentors will be!
FAQ
Q: Can I attend this event anonymously?
Yes, only the Pixelles organizers will have access to the registration list and names. No camera or account sign-in is required. Questions can be asked via the text channel or in advance through the ticket form. We promise not to divulge your identity to employers or companies.
Q: What language will this event be in?
The presentation content will be in English (auto-generated captions available). As international mentors will be present, the breakout groups may be bilingual (Français / English). We will do our best to ensure there is one francophone mentor per breakout group. The registration form asks your level of comfort so that we can best assess group dynamics.
Q: Is this event only for women?
It's open to anyone of all genders!
Q: Only open to only Montréal folks?
Anyone, anywhere in the world can register. Please note that the presentation will not be recorded or placed online for later access. It will only be given live starting at 12pm EST.
Q: What is the target experience level?
The Career Ignite series is open to a broad range of levels. The knowledge shared in the presentation is aimed at people with 2 years related experience but not required. Please note that event does not discuss how to leverage school projects, pick an educational institution, or get a student internship.
Q: My role does not fit in any of the breakout groups 🙁
Our apologies; we have limited volunteer capacity and can only provide certain number of breakout groups. You're free to attend the general interview skills presentation and lurk in any group, even if it does not 100% fit your area of expertise. We hope to be able to provide future events that can help you. By the way, our Facebook community group is filled with friendly folks who can give you specific advice. Take advantage and post your question in there!
OUR COLLABORATOR: STADIA
Stadia is Google's new cloud based gaming platform that revolutionizes the way gamers access, play and enjoy their favorite games. Stadia lets you play the latest video games instantly with one-click on TVs, laptops, desktops, and select tablets and phones. With Stadia, games will never require a download or updates, making it the most accessible platform ever.
Where
Virtual event
When
Date: Wednesday, May 13, 2020
Time: 12:00 pm - 1:00 pm
Timezone: UTC-4 (check your local time here)

How
Registration required? Yes

Cost: FREE

Full event details: Career Ignite: Improving Your Job Interview Skills

🔖 Event tags:
Free events
,
Midlifers
🚩 Event category:
Did you attend this event?
How did it go? Tell us.
Leave a comment below
.