One blog comment, one chance to win. Join in before Sunday night, ok?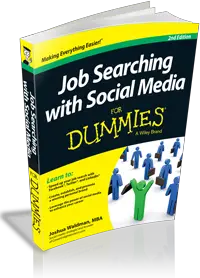 My friend and fellow job search expert blogger Joshua Waldman recently published the 2nd edition of his book Job Searching with Social Media For Dummies, and we're throwing this contest to celebrate.
How to Enter
At the bottom of this article, leave a comment about job search and social media.
Some suggestions of what to write in your comment are:
A memorable/funny/bizarre job listing you saw on a social network
A related pet peeve of yours
Tell us about someone worth hiring because of their social media presence, and why
Inspire us!
How to Win
Simple – Leave an impressive comment.
The winners will be the 3 people with the most impressive comments as judged by me.
You, or anyone you know, can try to influence the choice of winners by leaving more comments in support.
Prizes
3 free, digital copies of the recently-published Job Searching with Social Media For Dummies (MSRP of US$19.99) are available to be won.
Here's the trailer for this handy guide:
Rules
Must be 18 or older.
You can comment as many times as you like, but you can only win one prize.
Be sure to use a real email address or Twitter account when you comment so that I can contact you if you win.
Contest Deadline
To be considered as entries in the contest, all comments must be submitted by this Sunday, December 15th 2013, midnight PST, which is 10am Monday morning Israel time (check your local time here)
Good luck!
Subscribe to JobMob via RSS or email and follow me on Twitter for more fun job search contests.