The MyBlogGuest interview with founder Ann Smarty.
Thank you to MyBlogGuest for being a Titanium Sponsor in The 7th Annual JobMob Guest Blogging Contest. Please support them!
What is MyBlogGuest?
Ann Smarty: MyBlogGuest is the oldest platform giving bloggers one place to build relationships through exchanging great content. We are focused on high-quality guest blogging and on community building benefits of guest blogging.
What is the single best reason for bloggers to use MyBlogGuest?
Ann Smarty: With us, you are no longer alone! One of the hugest challenges of blogging is that it takes time to be heard and not everyone can just keep writing to yourself without feeling support. Our community is the perfect place for such bloggers because we teach how to build the community of returning contributors.
In fact, our tools are so easy that the only issue with them is that bloggers stop writing content and start relying on free contributions (which we actually discourage as we want bloggers to help find voice, not lose one!)
What is the single best reason for writers be on MyBlogGuest?
Ann Smarty: The easiness to find real blogs to expand your reach to. Our Articles Gallery and Articles Requests features give authors an immediate access to great blogs (and communities!) in any niche.
Not everyone knows that MyBlogGuest is a 3-time sponsor of the JobMob Guest Blogging Contest – thank you!
What's the best new feature that you guys have introduced since we talked about MyBlogGuest last year?
Ann Smarty: The most recent feature I have huge hopes for is the Google Authorship support. It is going to improve the process in many ways:
Authors can now "sign" their own content and get more visibility in SERPs;
Publishers get an access to the pool of verified authors (which automatically means "higher quality content")
Publishers get additional information about their contributors which makes it easier to create contributor accounts for them and thus tie them to the blog. The feature is also supported by our free WordPress plugin:

Besides, that's what Google wants us to do: So we are hoping we will be loved for that effort 🙂
What do MyBlogGuest members have to look forward to this year? What great new feature are you guys working on?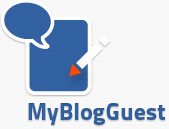 Ann Smarty: This year has been heavy in new features added: We have "Elite Gallery" (this one includes additional training and editorial process), Articles Requests (where publishers get free *edited* content), Verified Authorship added and I am also thinking we'll add something to help people promote their books and eBooks… So the rest of this year and the beginning of the next one will dedicate to improving these new features as I see huge potential in all of them!
Thanks again to MyBlogGuest for being a Titanium Sponsor in The 7th Annual JobMob Guest Blogging Contest. Please support and recommend them.