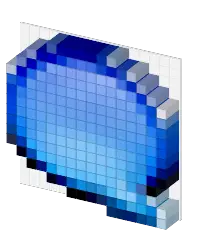 I love the Internet. I hate boredom.
In 2007, it has now been 13 years that I've been online and to be perfectly honest, I don't think that I've ever been bored online in all that time. TV? Used to bore me all the time – not just the ads either – and that's why I barely watch any.
One of the dangerously addictive parts of the Net in my eyes is Digg. Like a video game, if I wasn't careful I could spend hours and hours reading and voting, voting and reading. That is why I avoid using a Digg widget on my computer's Desktop, instead limiting myself to the homepage RSS feed. That alone can still eat an hour of my day.
Here's something that I just Dugg: favicon2dots. You put in https://jobmob.co.il/ or any URL to a site with a favicon and voila, pixel-beauty, here on the right.
So what distracts you from working?
Enjoying the blue bubble? Subscribe to JobMob via RSS or email for more sideswiping job search issues.