After last year's event, Alljobs is preparing another job fair at the Azrieli Center in Tel Aviv.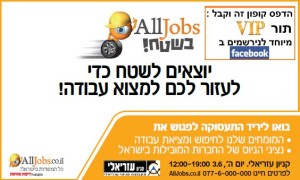 Who
The job fair is open to all. However, given the location, most of the jobs are likely to be located in the center of the country as well.
What
The official announcement doesn't say much about the companies that will attend the fair, other than "the HR reps of the leading companies in your area", whatever that means. Rather, the announcement seems to focus more on the free career counseling and other advice that will be provided by experts at the fair.
By saying you're attending on the fair's Facebook event page, you earn the right to use a "VIP" coupon for special free access to a resume consultation at the fair. The orange and white coupon is pictured here. Print it out OR download it to your cellphone and bring it to the fair.
Where
Azrieli Center, Tel Aviv
Ground floor
Train: Tel Aviv Hashalom
Bus: 27, 40, 42, 50, 51, 60, 63, 100, 127, 140, 141, 150, 154, 186, 250, 251, 285, 286, 386
For more information, call 077-6-000-000.
Entry is free.
When
Thursday, June 3rd from 12pm – 7pm
Bring copies of your resume and don't forget to check out my 35+ Job Fair Success Do's and Don'ts before you go.
Subscribe to JobMob via RSS or email and follow me on Twitter for the best job search events to pin in your calendar.