The LeWeb3 conference brought to Paris all kinds of people from Internetpreneurs to professional bloggers, from hardcore gamers to so-called Old Media journalists. Many came to listen, but most came with a message to spread. This is how they did it.
Sponsorship – there were many sponsors for the event and a good number of them had their logos displayed large and wide around the main hall so as to be caught on all the cameras constantly panning the room for posterity. LeWeb3's host and main organizer, Loïc Le Meur, was very gracious and often thanked the sponsors for making the event much more affordable than comparable affairs in Silicon Valley (TED costs thousands of US$). This had the desired effect of reinforcing certain brands, but unfortunately not many people in the audience will forget Orange being thanked for a Wifi network that was less available than a French politician.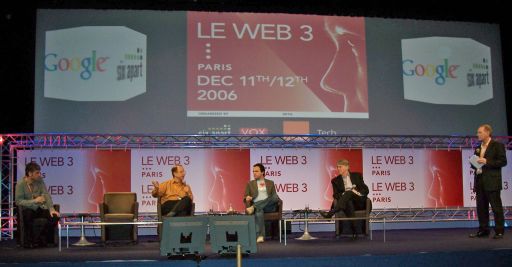 However, before the sponsors had the chance to show their brands on the conference hall's walls, their banners and logos covered significant portions of the official conference website.
Websites – leweb3.com, really just a blog, was more effective as an informational tool for eventual conference attendees than as a means to sell the event. I believe that was by design and that the organizers, understanding their audience, were fairly confident (or should have been) that word-of-mouth would fill the event on its own. One annoyance – this is one of the first blogsites that I've seen without a search box. Why turn that default functionality off? Don't make that mistake.
Logos – among the posts on the above blog were official event logos in various sizes for friendly bloggers to proudly stamp their site with. People seemed to like this idea which resulted in the spooky red profile appearing around the web, such as here and here. This added to some of the hype around the event.
Forums & Newsgroups – Geraldine Le Meur, Loïc's wife, set up the official Google Group for LeWeb3. It was a good idea that never really caught fire in this case, barely topping 30 members out of 1000 attendees. I think that this was because the group was only mentioned in a single blog post and didn't even get a sidebar link on leweb3.com from where it certainly would have had more traffic. Due to the low member count, the group wasn't very effective except for some informational purposes such as announcing the…
Podcasts – Nicole Simon's Bloxpert interviewed some of the event speakers in the days running up to the event. Aside from the fact that Nicole has a great voice (as she's somewhat tired of being told), I liked listening to these in scouting out some of the people I could/would meet over the 11th and 12th of December and I know that a few of those people also had the same thoughts. Due to Nicole being a blogebrity (at least in Europe), the podcasts probably had better traffic than the Google group even though the podcasts were only publicized on the group and nowhere else (I didn't see it on the official blog, did you?). From a marketing perspective, they were likely useful for the interviewees as yet another platform although I find it hard to judge how useful. I doubt that there were hundreds of listeners; on the other hand, some of the listeners wield significant influence.
Next up in Part 2 of 3 – Secrets gleaned during the conference days
Subscribe to JobMob via RSS or email and follow me on Twitter for more ideas on how to rethink your job search.