People & Computers' latest edition of its annual hitech (IT) job fair is next week.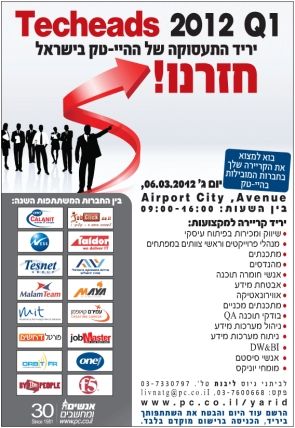 This job fair usually takes place in the summer like this one last July, so either they bumped it up this year or they'll be another one in 6 months (although I hope you won't care about it).
If you know anyone else looking for a job in Israel in one of the below industries, please share this article with them.
Who
Translating from the official announcement, this job fair is for the following professions:
Marketing and Sales in Business Development
Project Managers and Developer Team Leads
Programmers
Engineers
Hardware experts
Information Security
Aeronautics
Mechanical planning
Software testers (QA)
System admins
System analysts
Data warehouse & Business intelligence specialists
Systems people
Unix experts
What
The official announcement has a short list of companies that will be recruiting at the fair, and hopefully there are others too:
f5 Networks
Orbit FR
Taldor
Calanit IT
MalamTeam
One1
Ness
Where
Avenue, Airport City
Tel: 03-7330797 (ask for Livnat)
Map
Directions: the easiest way to go via public transportation is to take the train to the airport and then take bus 5/5A to the venue. Otherwise, this PDF has full directions (Hebrew) by train, bus or car.
Entry is free. You're asked to register in advance but it doesn't really matter, you can also register at the fair.
Register now for this job fair (the form will open in a new window).
When
Tuesday, March 6th, 2012 from 9am-4pm
Why
Discover job openings you aren't aware of
Talk with representatives from companies you're targeting
Network with other job seekers
Don't forget to read my 35+ Job Fair Success Do's and Don'ts before you go.
Question of the article
Are you planning on going? Tell us in the comments. I'm planning on going, and it would be great to meet up with you there. Watch the JobMob Facebook page for times.
Subscribe to JobMob via RSS or email and follow me on Twitter for more Israeli job fair announcements.