My take on the idea of job search spending has changed completely over the years, but what's yours?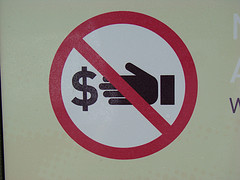 Vote now:
How much MONEY have you spent on your job search?
$0 (35%, 35 Votes)
$0-$100 (24%, 24 Votes)
More than $1000 (20%, 20 Votes)
$100-$500 (18%, 18 Votes)
$500-$1000 (2%, 2 Votes)
Started: April 14, 2010 @ 10:00 am

Total Voters: 99
(Please vote- it only takes a few seconds and is easier than leaving a comment. Thanks!)
Penny wise?
There are a few articles in the JobMob archives about being careful with your job search budget:
And that insight still stands true today, especially given the ever-rising number of job search scams that exist, but I'll leave you with this food for thought:
If a typical job search in your field would take 6-9 months and there was some paid service or product that could shorten the length of that search by half, would you be willing to pay for it? Assume that the price of the service or product was reasonable.
What do you think?
If you liked this article, you'll enjoy [POLL RESULTS AND ANALYSIS] How Long Have You Been Job Searching?.
Subscribe to JobMob via RSS or email and follow me on Twitter for more surprising job search polls.