In Part 1 of this podcast interview, Nat Gordon explains what really is the hardest part about finding a job in Israel.
To listen to the podcast, press the Play button to begin streaming the audio or else right-click the Download link and choose "Save as…" or "Save link as…".
[audio:https://jobmob.s3.amazonaws.com/Nat-Gordon-Podcast-Interview-Part1.mp3]
Download the MP3 [ 36 Minutes – 34 MB ]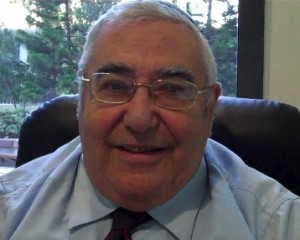 If you'd like to find out more about the podcast before listening, read on.
Nat Gordon
Nat Gordon is Israel's best known recruiter specializing in jobs for English speakers, having founded Marksman International Personnel in 1982.
I recently sat down with Nat in his Ramat Gan offices, and had a fun chat with him in this wide-ranging interview. With almost 68 minutes of insight in total from Nat, I decided to split this podcast into 2 parts:
Part 1 here mostly covers recruiting and job search for English speakers in Israel.
Part 2 deals more with general job search tips, and will arrive for you one week from today.
Highlights of Part 1
History of recruiting in Israel
Regulations for being a recruitment consultant in Israel
How Marksman grew from first being based on his mother's balcony
Some kinds of jobs for English speakers that are in demand in Israel today
A common problem many new Israeli job seekers have, and how Marksman helps deal with it
Why some people become "job hoppers"
What makes recruiting harder in today's fast-moving Internet world
The 4 skills that can help you get almost any job
Why the number of English-based jobs in Israel are growing, both for younger and older job seekers
Have any favorite moments in the show? Anything to suggest for future podcasts? Tell us in the comments below.
MP3 Download
Download the MP3 [ 36 Minutes – 34 MB ]
Subscribe to JobMob via RSS or email and follow me on Twitter for more podcast interviews with Israeli recruiters and job search experts.