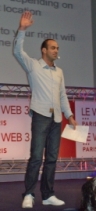 Loïc Le Meur has just jumped on stage to the vibes of Fatboy Slim. A bit late, but the loud applause shows how happy people are to be here.
A bit rushed, no doubt from the excitement, he talks about the name change from LesBlogs to LeWeb; the world has changed a lot in 3 years and blogs are now just another part of the Web.
Big surprise announcement – Shimon Peres will be here tomorrow morning to talk about Politics, Peace and the Internet.
@edit: Loic has issued a challenge to France's presidential candidates to join Shimon Peres in discussing Politics and the Internet tomorrow morning.