People and Computers is mounting the 5th version of their hitech job fair in Tel Aviv.
The local industry is so hot right now that Israeli tech companies are struggling to hire people.
Even if you already have a job but are curious about better opportunities
, sign up now.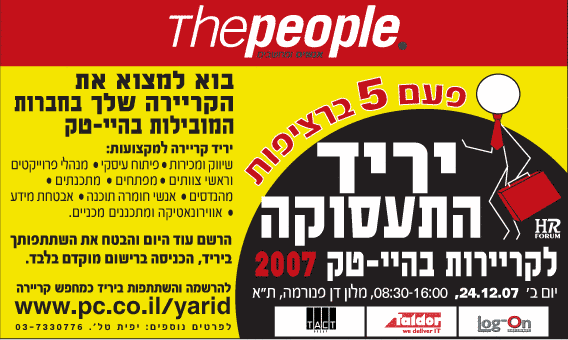 Who
This hitech job fair is for job seekers in the following professions:
Sales & Marketing
Business Development
Team & Project Management
Software Development
Hardware & Mechanical Engineering
Informational Security
Aeronautics
What
At the job fair, you'll find 20+ companies from across the Israeli hitech industry.
In past years, between 1000-1200 people visited the 1-day event, and hundreds have already signed up according to Yafit at the People and Computers Events Desk.
Entry to the fair is free.
Where
Dan Panorama Tel Aviv Hotel
Charles Clore Park
Tel Aviv
Tel: 03 519 0190
Directions & Map (only works in Internet Explorer)
When
Monday, December 24th, 8:30am – 4pm.
Why
Get feedback about your resume
Stock up on free pens
Network with other job seekers and JobMobbers
Another good reason to go to the fair is because 2 other free conferences are taking place on the same day at the same hotel and they might interest you too:
SMB07 – the hitech conference for small and medium-sized businesses
BI@World07 – a conference about business intelligence
Here's a complete list of People and Computers' upcoming conferences for your calendar.
Looking forward to it? Subscribe to JobMob via RSS or email for other dates to pin on your wall.