These need to be seen to be believed.
MOST of these are real. See if you can spot the few joke ones, and mention your picks in the comments.
1) "Attached is a copy of my CV and his death certificate"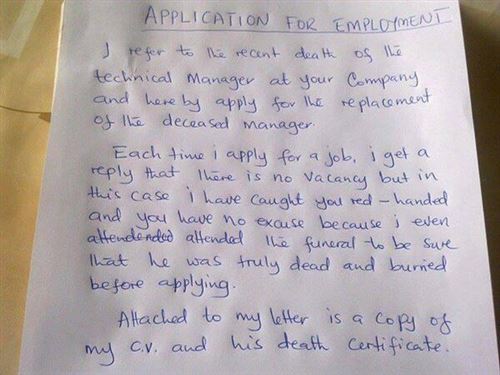 2) "I have brave fight to wild bear"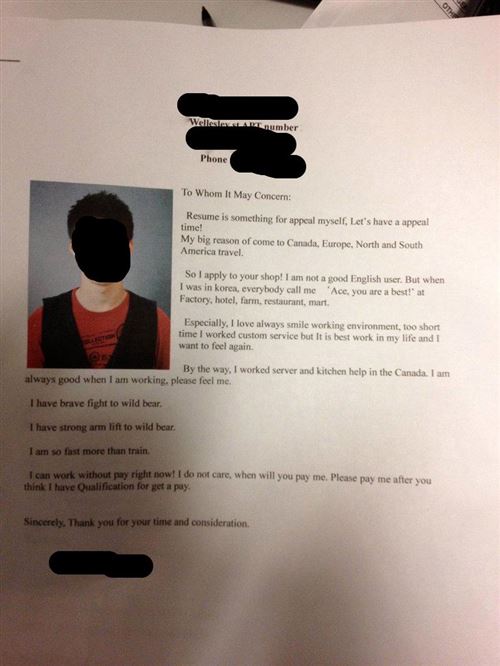 3) "I am only 6"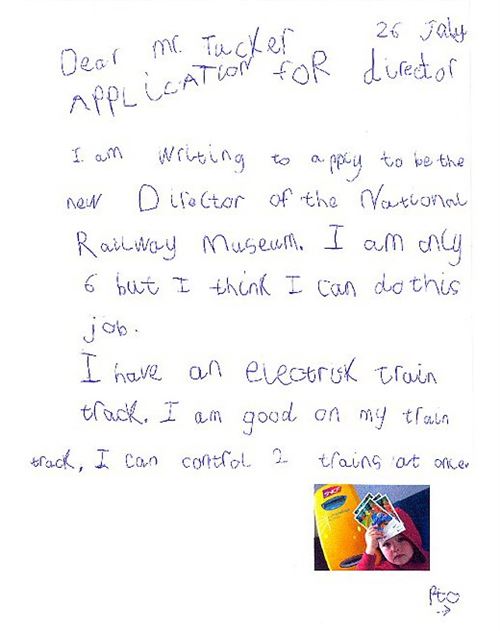 4) Reason for leaving: "It sucked"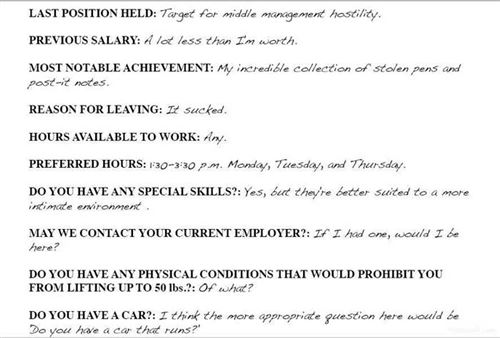 5) "kount money faster than a bank teller"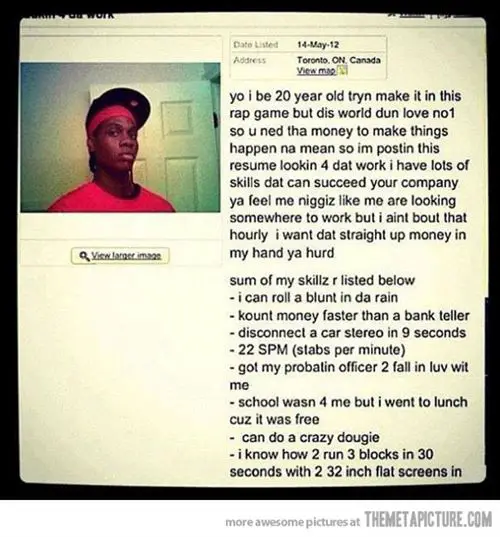 6) "i like kids and its fun to fiddle with them"
7) "I won't waste your time… feeding you a line of crap"
8) "If you have any questions, please feel free to f#$king contact me"
9) "it would be the highest choice of my smile to discuss myself being hired"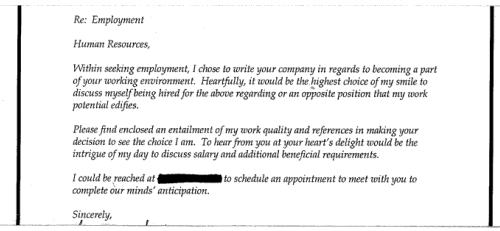 10) "Please explain your rationale for the rainbow"
11) Please tell me why you deserve to be hired: "To be paid"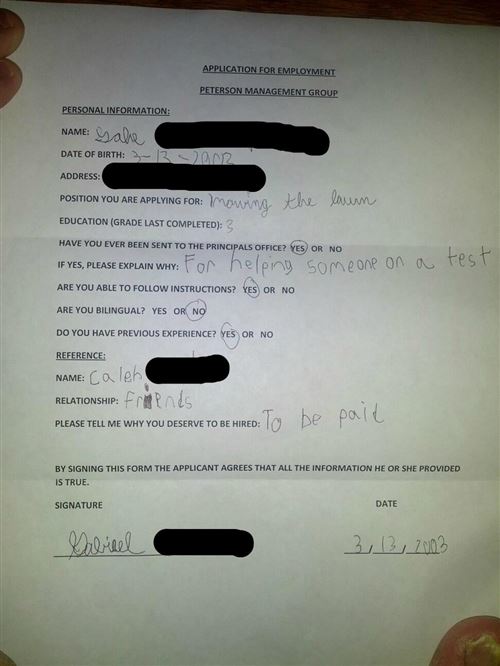 12) "You need me to work you because you seem to have trouble with math"
13) "lets make it happen WOO WOO"
14) "Please realize that I'm not a braggart or conceited"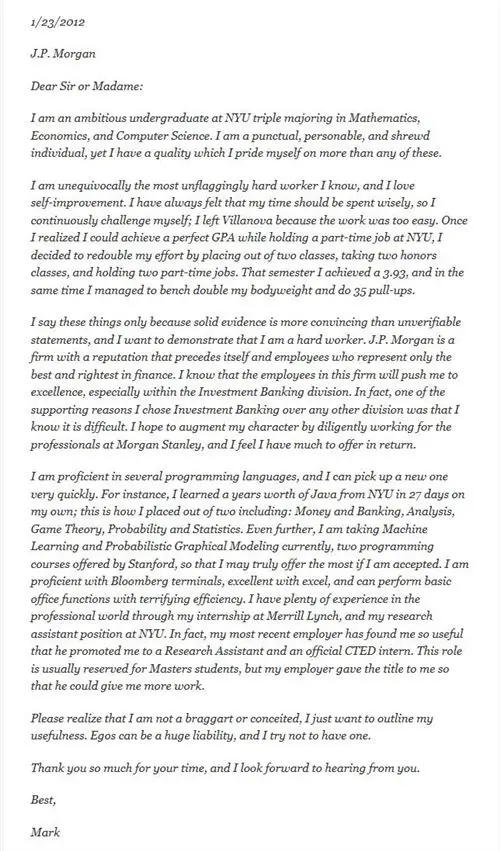 15) "calling our head of HR a 'skank ho' does not gain you any plus points"
16) "My middle name is Promptness. True story. Ask my mom"
17) "here's a good presentation that cover's the basics"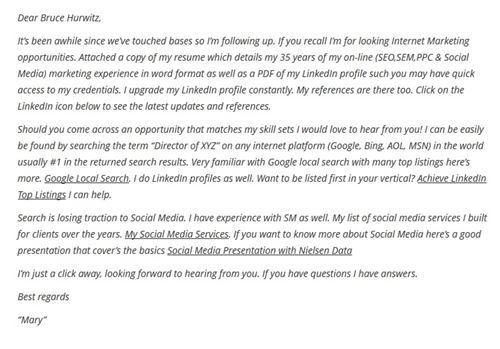 18) "this position sparked my interested because…"
19) "I am your dog walker… I got a 1600 on my SATs"
20) "Me also can fight for boxing like Tyson"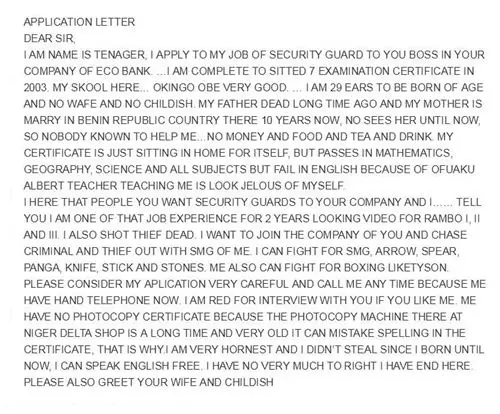 21) "I am also very highly motivated, just show me the money"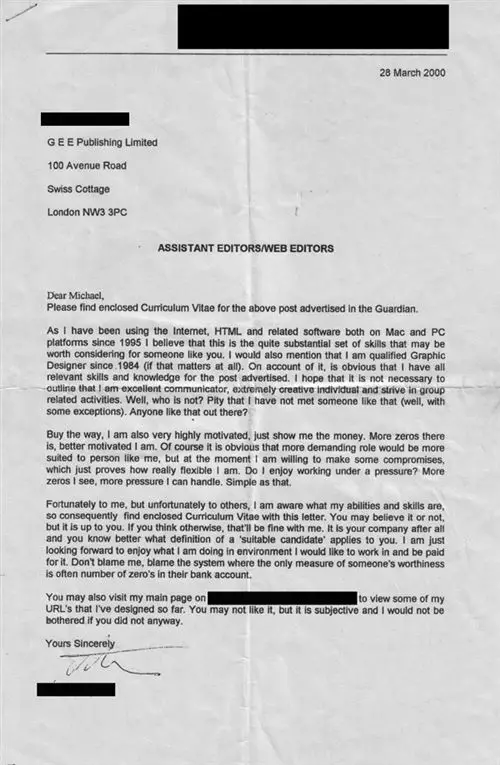 22) "I hate this guy"
23) "I'm sick of writing these pedestrian cover letters, you're sick of reading them"
24) "I am 24 years old which is why I think this position is a great fit for me"
25) "I received some feedback from the grandfather of a friend"
26) "And like to write columns, blogs, reviews, articles and letter to the editor"
27) "since I moved here solely for career purposes, don't really have any friends yet… I'm in a perfect position to make work my life"
28) "right now studying in a Left leaning institution"
29) "the only caveat IS I have to do this during non-working hours"
30) The most generic cover letter ever?
31) "it would probably explode from Cancer of the RAM"
32) "I dont have any expereince"
33) Business Insider Sports Intern?
Bonus
34) Captain America's cover letter
35) "I am writing to you in regard to the position of boyfriend"
ABC News: Worst cover letters
More funny cover letters and job applications
Question of the article
What's the dumbest thing you ever wrote on a cover letter or job application? Tell us in the comments!
Subscribe to JobMob via RSS or email and follow me on Twitter for more ideas on how NOT to job search.