When you can't be painted with one brush.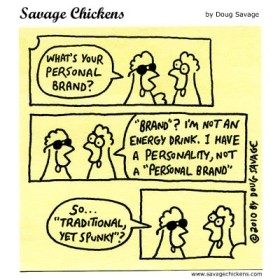 This is a guest post by Margie Cohen-Jackel. If you'd also like to guest post here on JobMob, follow these guest post guidelines.
I grew up in a family where almost everyone was either educational – teachers of regular and special education, support staff and/or or medical personnel – doctors in different specialties, nurses etc… (My father, now retired, was an electrical engineer – he was in the minority.)
So, when the time came for me to determine a direction for myself, I studied Music Therapy (an outgrowth of my violin playing) and educational social work. I began my career as a school social worker in an Ohio school system in regular education; after that I worked in kindergartens for children with special needs.
Soon afterwards, I was in a horrific traffic accident in which I was severely injured, and needed to learn to walk again. Luckily my two kids who were with me that day had much less serious injuries than I, and the third was out of the country with his father!
However, halfway through the final project (which one had to complete in order to get certified), a fellow English teacher's husband was transferred halfway across the world and she offered me her job before she told the school authorities. As I wasn't back to driving yet (scared, I guess) and the job was right in our own community, I took it.
Recently, I have become a partner in a Remedial Learning Center and teach English there, both individually and in small groups. This is ideal as I combine my background in Learning Disabilities with my experience as a school guidance counselor. It is almost as if my career has come full circle from where I began.
Personal branding? Well, I have always been a person who resisted labels, both for myself and for my students.
I enjoy the variety of jobs I have and the way they sometimes overlap.  This has also carried over to my blog, not surprisingly. I was told to pick an approach and write articles only about that subject, that I would gain readers by branding myself as ABC or XYZ.  But since so many parts of my life converge, I couldn't separate them for the purpose of the blog, so it is really a reflection of the different aspects of my life, and how they all come together.
And my kids? They all have found different paths: one works for the website of a newspaper, one works in security, and the third works at a high-tech company and is working on a degree in Computer Science. None of them wanted to be an English teacher…
About the Author

Margie Cohen-Jackel was born in Cleveland, Ohio and has been living in Israel since 1984. She has three grown children who live and work nearby. She is trained as a guidance counselor and now teaches EFL (English as a Foreign Language) to various populations, including to students with learning disabilities. She is a partner in a Remedial Learning Center and also teachers Bar/Bat Mitzvah preparation to teens with special needs. In her rare spare time she reads as much as she can and plays her violin.
She can be found on Facebook: Margie Anne Cohen-Jackel
Her blog URL is: http://margiecj.blogspot.co.il
This article is part of the The $10000 7th Annual JobMob Guest Blogging Contest.
| | |
| --- | --- |
| | WebHostingBuzz is a reliable web hosting company with the servers hosted at multiple US and Europe locations and over 30,000 happy customers worldwide. |
If you want Margie Cohen-Jackel to win, share this article with your friends.
READ NOW: 5 Good Personal Branding Habits For Bloggers
Subscribe to JobMob via RSS or email and follow me on Twitter for more personal thoughts on personal branding.