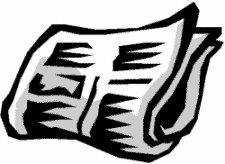 One way to make a great impression during a job interview is to show intimate familiarity with the target company and its market. The classic way to research is simply to read the newspaper, and Israel has many dailies in print and on the Internet.
Which newspaper is best for you, the Israeli job seeker?

Different Shapes and Sizes
Israeli newspapers come in many flavors covering Hebrew, English, Arabic, Russian and more. The tabloid formats of Yediot and Ma'ariv, the classic layouts of Ha'aretz and the Jerusalem Post, the free journals like Israeli that train riders used to have. Too many to follow them all, but are they still too few to serve you well?
Over the next few weeks, JobMob will take a closer look at the papers and help you determine which ones are best for your Israeli job search. The print versions cost money but the web versions are (mostly) free, so the latter is where we'll focus in this multi-part series.
Stay Tuned 🙂