Should you change how you communicate online based on who you communicate with?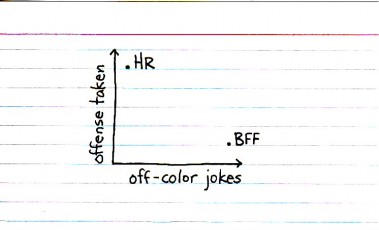 This is a guest post by Tahl Wilson. If you'd also like to guest post here on JobMob, follow these guest post guidelines.
As a hi-tech recruiter, social media has opened up a totally new dimension as far as being able to reach out, find, and communicate with potential job seekers.
Amazing networking platforms such as LinkedIn and Facebook however, with their convenience have created mass competition as every person actually has access to every person, and basically anyone and everyone can become a virtual headhunter.
Now my intention is not to criticize those super savvy bloggers/twitter'ers/Facebookers. It's amazing (and a fact) that people who have the personality and charisma to draw in thousands of people in with one quirky message/headline/blog, and thereby persuade them to do virtually anything, has become one of the most popular professions in the industry today and generates almost immediate revenue and results far beyond what traditional marketing ever did.
The question remains, if I need candidates and I am competing with hundreds of other recruiters for the same pool of hi-tech professionals, what will make you want to answer me if you are only contemplating a move?
For so many, using social media on a professional level is something new. Traditional marketing is out (as a sole method of marketing) as the demand for online strategists and social media gurus grow, the dilemma of how to balance professionalism with the straightforward personality-filled posts have really become an issue for me.
How do I remain professional?
Do I change my post according to the professional level it is meant for?
What will industry executives think if I allow my "true colors" to shine through in my posts?
Should my "Seeking" message to C-level positions (CEO, CTO, etc.) be serious and straightforward while my search for younger, more junior candidates includes slang and terms like "Cool company"," Superstar" and" Rock star"?
How does one find the balance? Is there such a thing?
It has been said that social media is the "Reality TV" of the marketing industry. People love it, they can't get enough of it- some are even addicted to it- the more open, blunt and unique you are, the more effective it is in many cases and it seems the more followers you have… but what are the rules?
How do I convey my message and yet be effective but not unprofessional?
Should I add a smiley or not?
Where do I draw the line?
Where do you draw the line? I would love to hear your opinion in the comments below.
About the Author
A people person by nature, Tahl Wilson recently established her own recruitment company after working for executive placement firms in Israel for the past 13 years. The decision to build her own business stemmed from Tahl's desire to provide highly personalized service to both hi-tech companies and candidates. With a wholehearted commitment to integrity, Tahl takes the time to understand the 360 degree view every candidate, organizational culture and the available position in order to make that perfect match. Learn more at www.tahlwilson-hr.com.
This article is part of the Over $6000 in Prizes: It's The 6th Annual JobMob Guest Blogging Contest, which was made possible thanks in large part to our sponsors:
| | |
| --- | --- |
| | WebHostingBuzz is a reliable web hosting company with the servers hosted at multiple US and Europe locations and over 30,000 happy customers worldwide. |
| | Rabbi Issamar Ginzberg is a keynote marketing speaker, marketing strategist, and the secret weapon for many successful entrepreneurs. |
If you want Tahl Wilson to win, share this article with your friends.
If you liked this article, you'll also enjoy The Biggest Danger of Personal Branding With Social Media.
Subscribe to JobMob via RSS or email and follow me on Twitter for more ideas on how to brand yourself to your next job.