Inspire employers with a memorable popup business card.
Marivi Garrido Bianchini's popout (or popup) business card design was featured in 125+ Creative Business Card Designs That Make You Unforgettable.
In this guest post, she explains her design process.
This is a guest post by Marivi Garrido Bianchini. If you'd also like to guest post here on JobMob, follow these guest post guidelines.
I was born in Barcelona, Spain (1949) and at the age of three emigrated with my parents to Argentina where I ultimately obtained a degree of Architecture and Urbanism, and I also became a Math teacher.
During my teaching days, while looking for new practical and pleasant methods for my classes, I discovered Origamic Architecture.
Origamic Architecture: "the three-dimensional reproduction of architecture, geometric patterns, everyday objects, or other images, on various scales, using cut-out and folded paper" – Wikipedia
Since that moment, designing popup books and cards became my passion.
My business card is a pop-up design that I designed for a big exhibition at the Alcazar de Toledo (Spain) about Don Quixote. I think that it represents my business very well.
I thought that it could be interesting to write a few words about the design process I follow, in this case, designing a pop-up book.

Step 1
Make a pencil drawing with a view to decide:
the scale of the work
its position in the base sheet
if any other pop-up object will accompany the main subject
which type of mechanism or movements would work well for each spread
Step 2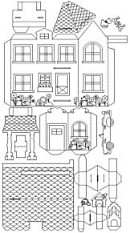 Once the pencil sketch is approved e.g. by the client, I go on with the most technical aspect of the work, which is to transfer the idea to a set of pieces interlocked with one another.
I make a drawing of each piece on my computer with AutoCad or Adobe Illustrator.
Each part is like a watch piece that must be adjusted accurately in its place so that the entire mechanism works.
This stage is based more on geometrical properties rather than on the artistic inspiration.
Step 3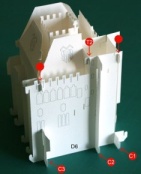 I don't design a whole building in the first stage.
Rather, I start by looking into the characteristic features that define it, and draw them into the pieces.
Then I print, cut and assemble the pieces to study and see if they will serve the purpose.
Step 4

This is the adjustment stage where I take the first prototype and start making corrections, going back to the design of the pieces to modify them.
I print, cut and assemble them again as much as necessary until I get the result that I like best and am prepared to publish.
Different formats
The Miniature books are entirely my own creation from the very inception of the idea until its production.
Once I select a subject for the book I imagine the more convenient pop-ups and that will also determine the format, i.e. if it will be designed in the sliceform system like Vic's Cathedral or if it will be a carousel type as in "A.Gaudi" with 5 buildings to be unfolded as a 5-pointed star: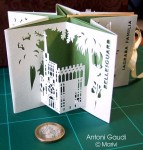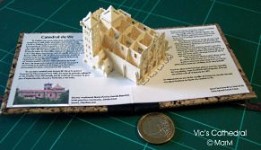 The books can also be designed in the accordion system such as the "Illustrated Architecture Glossary" or finally, one 90º pop-up or single pieces interlocked such as in the "Four Seasons" book: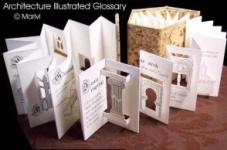 About the Author
Marivi Garrido Bianchini has published 4 regular pop-up books and more than 25 miniature books and participated in many international exhibitions around the world starting in 2001 with the American Craft Museum in New York. Visit her website and her miniature book gallery on Flickr.
This article is part of the Over $4000 in Prizes: The 5th Annual JobMob Guest Blogging Contest, which was made possible thanks in large part to our sponsors:
| | |
| --- | --- |
| | Marcus Tandler's JOBlog is Germany's oldest blog about job search & careers. |
| | Rabbi Issamar Ginzberg is an internationally acclaimed advisor to successful business owners, known for his small business ideas. |
| | WebHostingBuzz is a reliable web hosting company based in MA, USA. |
If you want Marivi Garrido Bianchini to win, share this article with your friends.
If you liked this article, you'll also enjoy 20 Classic Business Card Mistakes That Make Your Life Harder.
Subscribe to JobMob via RSS or email and follow me on Twitter for the best job search tool insight.