Group interviews sometimes have surprises that go beyond what should usually happen.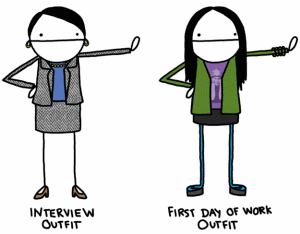 (Didn't read part 1 of this article? Read it first and then come back here for the conclusion of the story.)
This is a guest post by Ronni Kives. If you'd also like to guest post here on JobMob, follow these guest post guidelines.
After the coffee break, the next exercise was:
Exercise 4: What can you do with a ten agura coin?
We were told to brainstorm in this "creative" exercise about how many ways you can use a ten-agura coin not connected to the monetary purpose. I suppose that the purpose of the exercise was to see how we could think out of the box.
Some of the ideas that I remember included:
cookie cutter
stamp
jewelry (earrings, necklace, broach)
paper weight
token for a supermarket cart (the ones today use 5 shekel coins, but you could have other sizes)
put on tap dance shoes
tracer (make pictures in the sand)
mold (dip in paint and draw)
base for an electronic chip
Exercise 5: The Exhibition
Prepare a slogan for a cellular company that has reduced its market share. Present the slogan to the team and justify your reason behind the slogan and its concept. (More background was given, but I do not want to give too many identifying factors about the company.)
On a piece of paper, write down the marketing collateral that would be needed for this exhibition and the stages you would need to plan it.
Although the last exercise was about an agura coin, the penny didn't really drop until this moment. I asked Yael and Limor whether I could write the brief for the exhibition in English. They refused. I said "but aren't you looking for a Marcom person who writes in English?" They answered that the work in Israel is done in Hebrew, and that the position is to cover all marketing activities in Israel, including the company Intranet and Internet in Hebrew. The only other anglo and I looked at each other.
I quietly approached Yael and told her that there has seemingly been a mistake. The placement agent told me that this was a Marcom position in English! I was wondering why Yael and Limor had been throwing me dirty looks since the morning's cargo ship sailed (remember the first exercise!?). However, didn't they notice that my CV, was only in English? Did they not do any filtering of the applicants before they called them in? Did they show complete faith in the placement companies?
Once I realized that I was in the wrong place at the wrong time, for the wrong position, I could have walked out and gone home. However, I thought it was going to be an educational experience for me, as it was my first time in such an evaluation center.
At this point, a man walked into the room and sat at the head of the panel, closest to me. I whispered to him that it would be nice if he would introduce himself. He did – I think he was the Director or Vice President of Marketing for Israel. I was the first or second person to present, and came up with a clever slogan, ironically in Hebrew, that I will reserve for my own copyright in the future. Amir (again, not his real name) challenged my presentation but I was able to answer his questions clearly and actually enjoyed being able to get up and address the group. A few of the women chose English slogans that did not make sense. They were trying to be clever, but it didn't work too well. This was the one area, copywriting, where I had the upper hand in the group.
The brief was less successful, as I am used to drafting documentation on a computer, and my handwriting, especially in Hebrew, is not one of my strong points. I organize procedures and thoughts well using programs such as Word, Excel or PowerPoint, so I did not feel that this exercise was a fair indicator of our organizational abilities. But I saw some of the stars in the group hand in Hebrew briefs with beautifully ordered, neat Hebrew handwriting. I knew that I was out of the running for the position for a long time, so I didn't take it to heart.
Exercise 6: And the Winner Is?
The last exercise consisted of three parts, with none of the other candidates being able to read our answers:
Write down why you think you are the best candidate for the job?
Rate the most appropriate candidate, not including yourself, out of the women here today. Justify your choice
Rate the least appropriate candidate, not including yourself, out of the women here today. Explain why.
This was fairly easy to do as I rated the "CEO" as the most suitable candidate. She clearly showed leadership abilities without being aggressive very early on in the morning. I rated the other native English speaker as the least appropriate, because I felt that mother tongue Hebrew was essential for this job.
As for rating myself, I wrote down that I am suitable for a Marcom position, but not this one!
What I took from the group interview: prepare yourself
Some of the women there were testing the waters and had jobs of their own, as opposed to being unemployed, so even if Yael and Limor chose them, there was no guarantee that they would leave their current company.
Although Amir seemed very nice and professional, Yael and Limor gave a cold, if not hostile, impression and had I been chosen to work at this particular company, I would have been in a bit of a dilemma. I felt that they thought they were doing us a big favor to give up our time and that we should be honored to have been chosen for the first screening process. I do not feel that they were aware that we were evaluating them as much as they were attempting to evaluate us.
Some of the exercises were indeed clever, while others seemed plain silly. I would use simulation and teamwork exercises as a secondary screening process, rather than a first one, if at all. Although I was told that I could not prepare for this "test", it seemed obvious that many of these women were well-versed and polished. Who knows, maybe they read about the exercises in Hebrew on someone else's blog?
What do you think? Have any of you been through this process? Did you enjoy it? Dread it? If you are employers, what is your take on this? I know that the experience I had does not represent all companies or evaluation centers, but I hope it is helpful to some of you.
And if not, maybe you will come up with some new great use for a ten-agura coin and patent the invention.
About the author
Ronni Kives has been a marketing communications writer for the high tech industry in Israel for the last ten years. After receiving this guest post, I (Jacob) just received the good news that Ronni was hired for a full-time position as a marketing writer, after several months of unemployment. The content of this post has no connection whatsoever to her present position or employer and was written and submitted before the publication date here. She was not recruited through an Evaluation Center. Originally from Winnipeg, Canada, Ronni currently lives in Kfar Saba, Israel.
If you found this article useful, you'll also enjoy Psychometric Testing in Israel: A Day at Machon Pilat.
Subscribe to JobMob via RSS or email and follow me on Twitter for more group interview pitfalls to avoid.