Microsoft Israel is sponsoring a free employment seminar with the Haifa Municipality aimed at people who would like to get into high tech in Israel.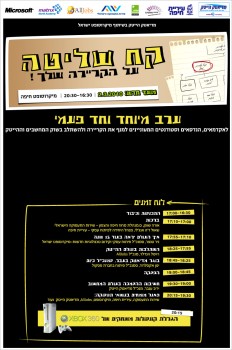 Who
The event is aimed "academics, engineers and students" who are interested in joining the "computers and high tech" industry.
What
According to the official announcement, the event's schedule runs from 4:30 pm until 8:15 pm, including speakers from Microsoft Israel (What Will the World Look Like in 15 years?), AllJobs (Transitioning into the World of High Tech), and others.
Possibly the most interesting part will be the final panel involving the speakers discussing job search topics.
Then there will also be a prize drawing of an XBOX 360 at the end of the evening.
Where
Microsoft Israel
Building 21, Haifa MATAM Industrial Park
Map
Train: Hof Ha-Carmel, then a 5-10 minute walk
Entry is free.
The official announcement asks you to register in advance but if for some reason you just decide to come at the last in minute, I'm sure they'll let you in (if there's room; you never know with these things…).
If you do register in advance, just be careful to UNCHECK the box beneath the registration form so that you don't inadvertently sign up to get spam from Microsoft and other companies involved in the event. Unless of course you like spam 🙂
When
Tuesday, March 2nd 2010, 4:30 pm – 8:15 pm
Why
This will be a well-coordinated event put together by a bunch of organizations with complementary offerings to sell you. That said, it is a free event and it does sound like you will learn some things about the Israeli high tech job market, regardless of whether or not you'd like to sign up for a programming course or work in the Haifa MATAM industrial park.
Plus, these kinds of events can be a great place to network with other job seekers, and frankly, they're also a good chance to do something different than job search online all day.
Subscribe to JobMob via RSS or email and follow me on Twitter for more announcements of Israeli employment seminars.