Let these personal CV mind map examples guide your own job search.
I was never big on mind maps.
I preferred making prioritized checklists and to do lists with sub-lists when needed. Back in 2002, I organized all of our wedding plans using a lists app on my Palm Treo and it was a thing of beauty, if I say so myself.
When I first tried mind mapping, my mind maps were always the same- one center node that branched off to a list of nodes, and each one had its own sub-list of nodes.
Sound familiar?
Since I wasn't doing it properly, I wasn't getting the benefits, so it's no surprise that I didn't find them very useful.
But I came back to them a few years ago, and the freedom of branching out in all directions was really liberating. I don't mind map every day, but when I'm in a strategic mood, they're now my go-to tool.
How can mind mapping help my job search?
You can use mind maps to:
1. Review your career to date, such as for preparing a work portfolio
2. Snapshot your network of contacts, or at least the relevant people for your current job search
3. Brainstorm, plan and track your job search, right down to companies to target
4. Prepare for an upcoming job interview, including questions to ask
5. Sell yourself in a job interview
And of course, you can use a mind map about yourself as a creative resume.
Not necessarily to send to recruiters, but definitely as a story-telling aid when pitching your accomplishments to anyone who might find a more formal resume boring.
Here's a large group of people who've done just that.
This is how to write a mind map of a CV
You could say these are mind maps people created about "me, I and myself."
Jane Brotchie
Stuart Emmett
Achraf Souk
Alberto Martinez
Jennifer Goddard
Dominique Dejonghe
Edgar
Emmanuel Lebrun
Jacqueline Bowman
Jean Pascal
Jon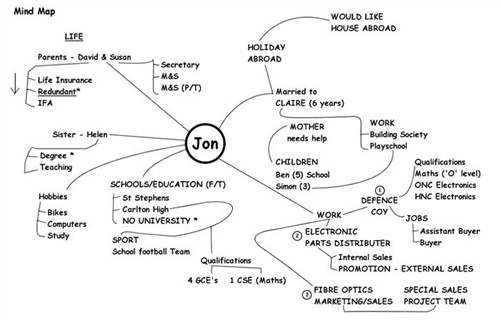 J. Wynia
Lars Dahlin
Marco Bertolini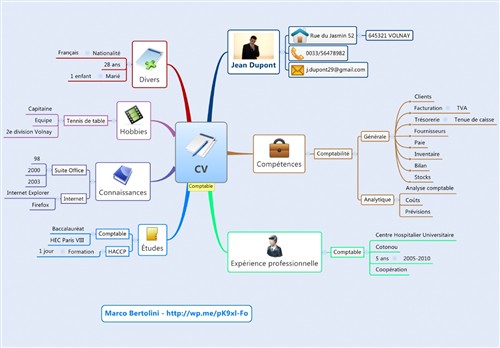 Niketan Pansare
Ricclo
Richard Harbridge
Skanda Kumarasingam
Steve Rothwell
Vincent Birlouez
Zehra Oguz Lebrun
Carl Giosa
Eric Giosa
Kevin Nast
Maneesh Dutt
Nathalie Dhalmann
Marina De Roover
Mark Pohlmann
Sab Will
Christopher Byrne
Andre Fiuza
Chris Delepierre
Syed Ahmad Mursil
Ton Meeuwissen
Pete Moore
Marina Massengo
Keith
Daniel Tay
Kara Aharon
Anton Gurov
Rhett Butler
Hannah Gant
Veselin Kirev
Pierre Aumont
Didier Lahely
Lars Henrik Dahl
Mohamed Moustafa
Mohamed is a Tony Buzan Licensed Instructor, so he knows mind mapping.
Foluso Aribisala
Pienaar Klopper
Kyung-moon Lee
What others are saying
Bonus 1: Mind mapping tools
If you'd like to mind map your own resume, here are some free tools:
MindMeister is another online mind mapping site with very handy features. Their basic/free plan is very limited (you're only allowed to save 3 mind maps) but they provide a free resume mind map template so you can get started quickly:
Bonus 2: The Power of a Mind to Map
If you enjoyed this gallery, you'll also enjoy The 25 Most Creative Designer Resumes You'll See This Year.
Subscribe to JobMob via RSS or email and follow me on Twitter for more ways to use mind maps in your job search.