Here's a contest that's easy to win.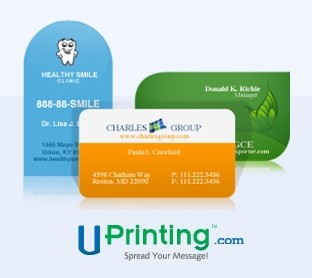 UPrinting.com is sponsoring this contest with prizes of personalized, top-notch business cards. Thank you, UPrinting.com.
This is the first contest as part of the run-up to JobMob's 5th Anniversary on March 21st. Stay tuned for more contests over the next few days.
Here are the others you can now enter:
It's ok to enter all the contests separately. You're not limited to entering only one.
How to Enter
At the bottom of this article, leave a comment about the most memorable business card you've ever seen.
Some suggestions of what to write in your comment are:
Your own business card
One that you received at a networking event
A business card that you saw online (maybe even on JobMob?), in someone else's hand, etc.
Tell us what was so memorable about it. Be as descriptive as you can.
How to Win
Simple – Leave an impressive comment.
The winners will be the 3 people with the most impressive comments as judged by me.
You, or anyone you know, can try to influence the choice of winners by leaving more comments in support.
Prizes
3 people will each win a package of custom business cards using high-quality, die-cut cardstock.
If you win, you'll get to:
Choose an initial business card online via UPrinting.com, beginning with any design template on their site
Have UPrinting.com's design team make two custom revisions of your chosen design, after having given them your details and any relevant files (photo?)
Receive 250 cards of the final design shipped to you, wherever you are on Earth
Void where prohibited.
Rules
Must be 18 or older.
You can comment as many times as you like, but you can only win one prize.
Be sure to use a real email address or Twitter account when you comment so that I can contact you if you win.
Contest Deadline
To be considered as entries in the contest, all comments must be submitted before Monday, March 26th, 2012.
And please tell your friends on Facebook to comment too.
Good luck!
Subscribe to JobMob via RSS or email and follow me on Twitter for more fun job search contests.