You've heard all these interview questions before, but some of the insightful answers in the almost 9-minute video clip might surprise you.
Questions answered
:37 Tell me about yourself.
Here they mention a "Forte report" which is a paying service of the Career Elevator, the people who made the video. Don't worry about that. What's important to retain is that you should be honest but reply in a way that implies how you would be a good fit for the position and the company.
1:13 Tell me about your last job.
1:42 What are your qualifications?
2:32 Where would you like to be in 5 years?
3:04 What is your ideal position?
3:42 Tell me about a problem you had to solve? (The S.T.A.R. approach)
4:13 What are your weaknesses?
Here they're again pushing their Forte Report but essentially their recommendation is to talk about what de-motivates you. If applicable in your case, another option is to be more direct but mention weaknesses that are actually borderline qualities.
4:40 Silly (hypothetical puzzle) questions, such as "if you were an animal, what would you be?"
5:53 Why should I hire you?
6:07 What are your salary expectations?
The suggested reply here involves market research. If you're unable to find any numbers for your market, you might simply prefer to take a more relaxed position.
6:43 How would you describe your previous manager?
7:13 What did you like least or most about your last job?
7:46 Why do you want to work here?
There are also some good tips near the 8th-minute about how to ask the interviewer some of your own questions.
Free Bonus
If you want a handy job interview resource that you can keep on your smartphone or print out for easy reference, I've got a special bonus for you.
This free download contains:
165 positive personality adjectives to describe yourself
444 of the most popular job interviewer questions to prepare yourself with
175 questions that you can ask in job interviews to make a good impression and learn about your future employer
Click the image below to get access to
The One Job Interview Resource You'll Ever Need
: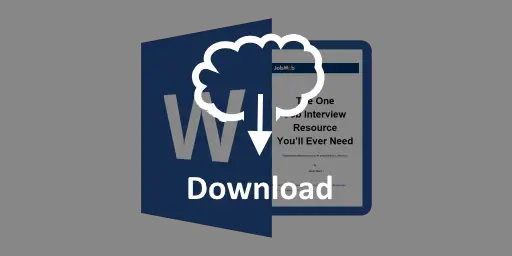 JobMob Insiders can get this free bonus and other exclusive content in the JobMob Insider Bonuses area. Join now, it's free!
Want to be prepared? Subscribe to JobMob via RSS or email to ace all your interviews.